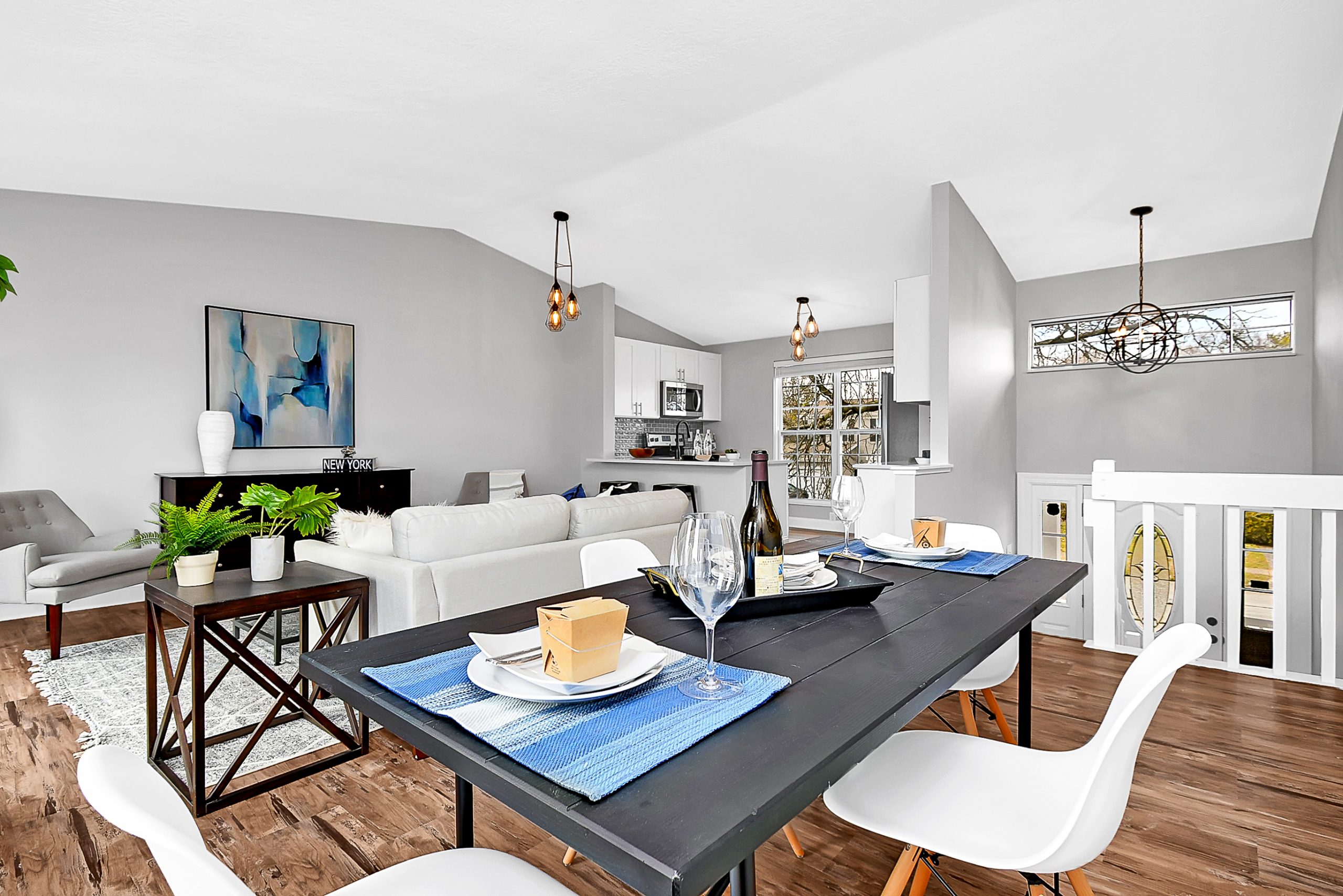 Hilliard Remodel: Purchased As-Is
The Upward Home Solutions team is proud of our recent renovation, a home in Hilliard, sold to us as-is. The owner needed a quick house sale and UHS was able to provide that service to them.
This Bi-Level home in Hilliard, Ohio, has three bedrooms and three bathrooms. It has a large lot in a sweet neighborhood. The house was built in 1989, but it was in serious need of updates. UHS purchased it in as-is condition.
Actually, it looked a lot like the house I lived in as a kid in the 90's. I think we had those same basic shutters and vanilla exterior paint.
Purchased in As-Is Condition
Here's a picture of the front when we purchased it as-is.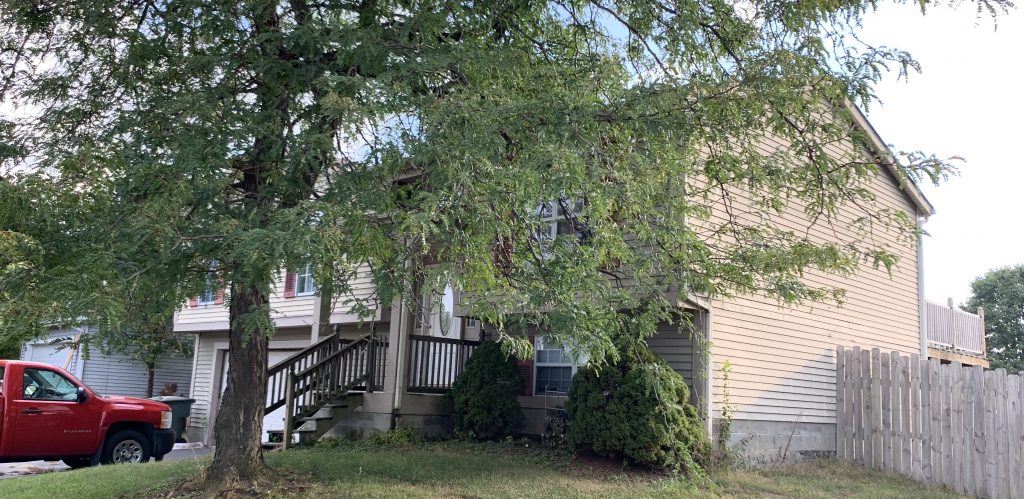 And after, from the same angle: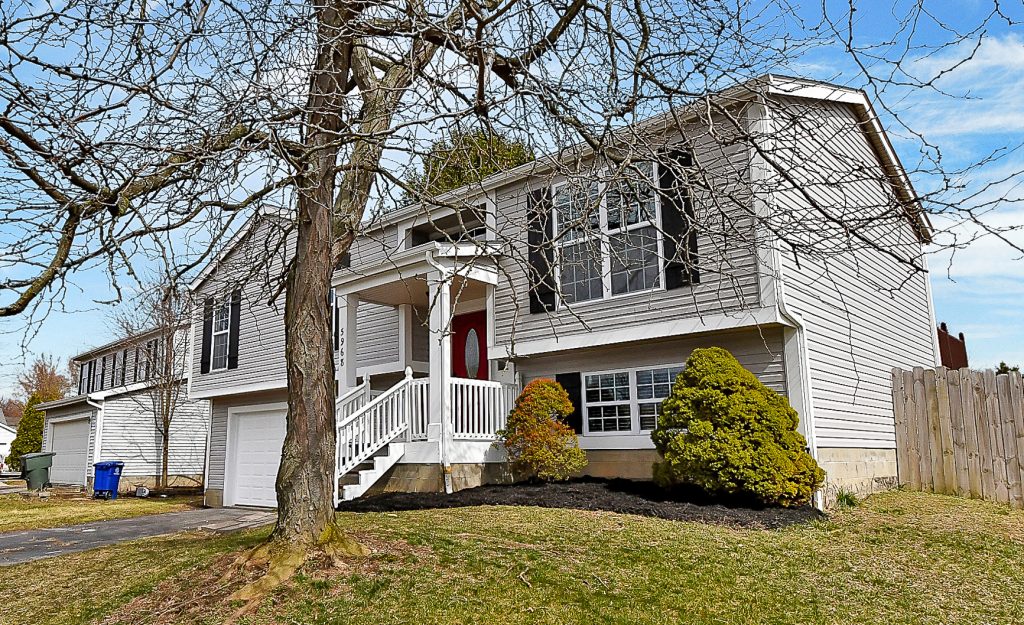 The transformation is amazing! After all of the work, it doesn't look like the same house. Here's a better view of the front: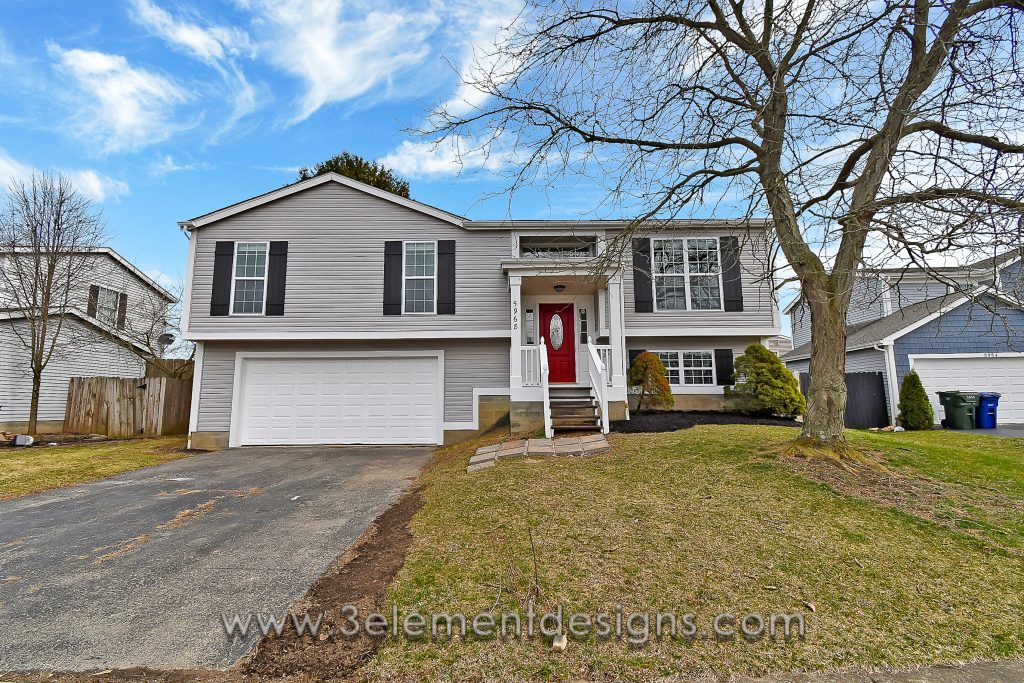 We love the new shutters. Look closely. They are really neat.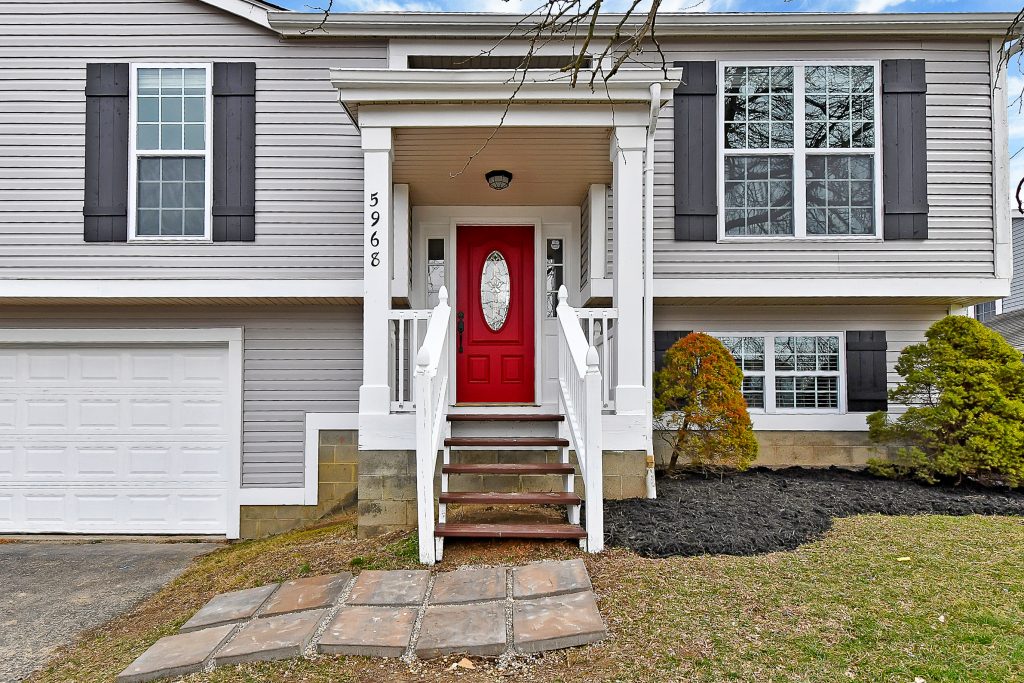 Did you know that a red front door is good feng shui?
As I write this, everyone in Ohio is being asked to stay home during the pandemic. So let's take a photo tour of the inside.
Kitchen
Before the renovation, here's what the as-is kitchen looked like: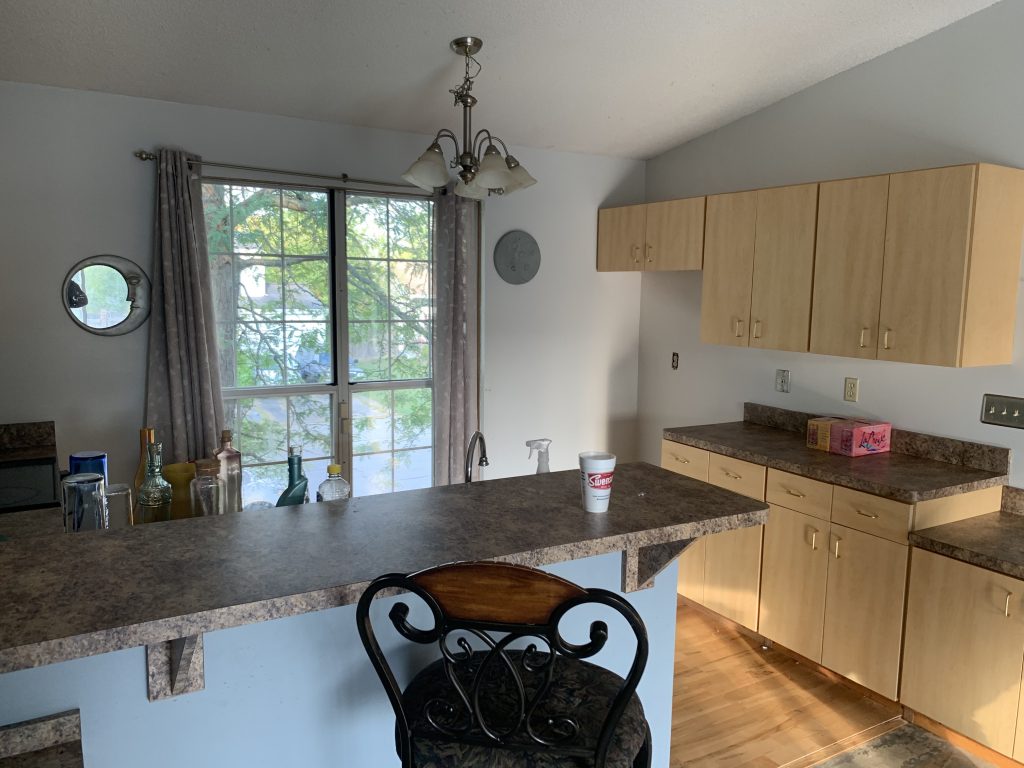 And turning to the left, it looked like this: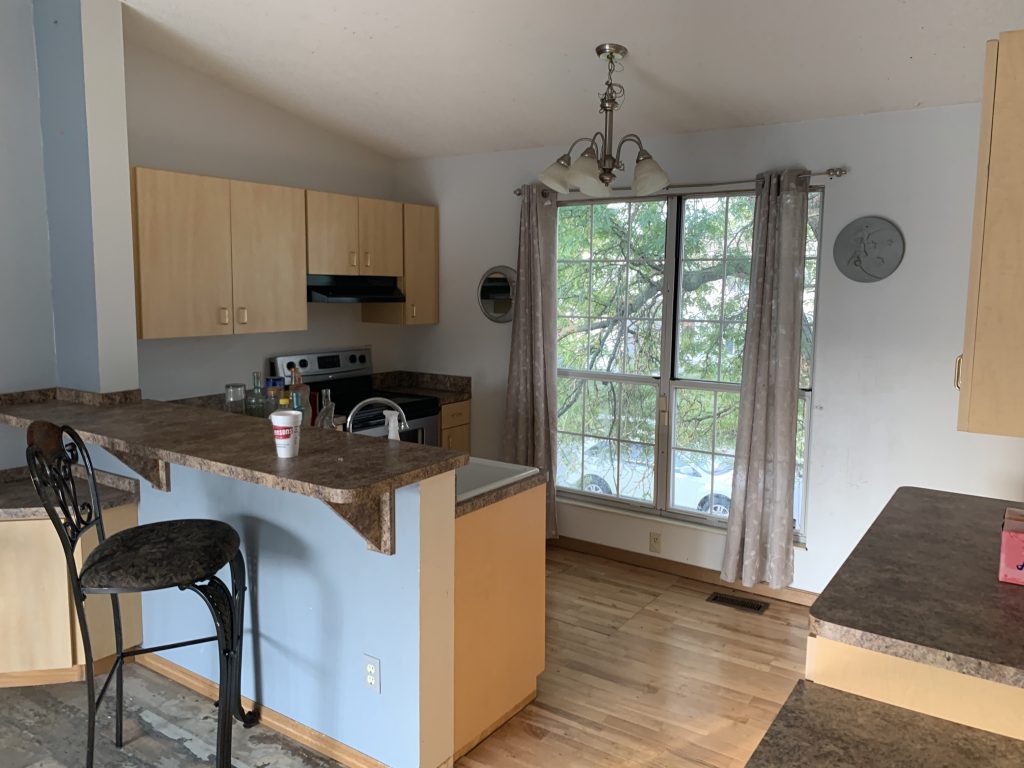 But now it looks like this!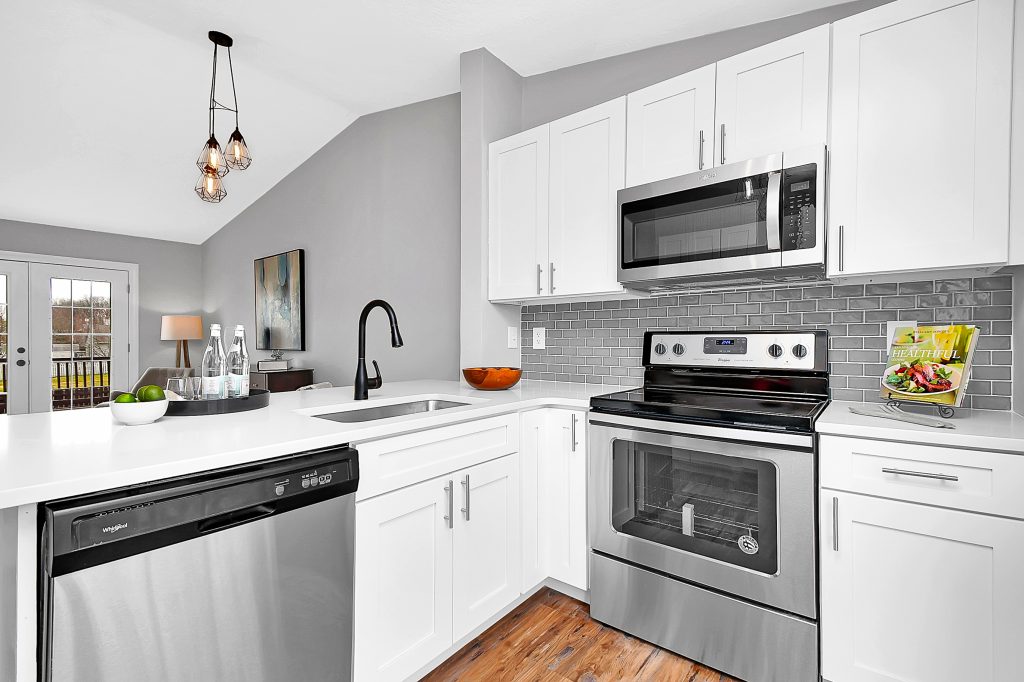 Do you see that gorgeous grey tile and new cabinets? I want those stainless steel appliances!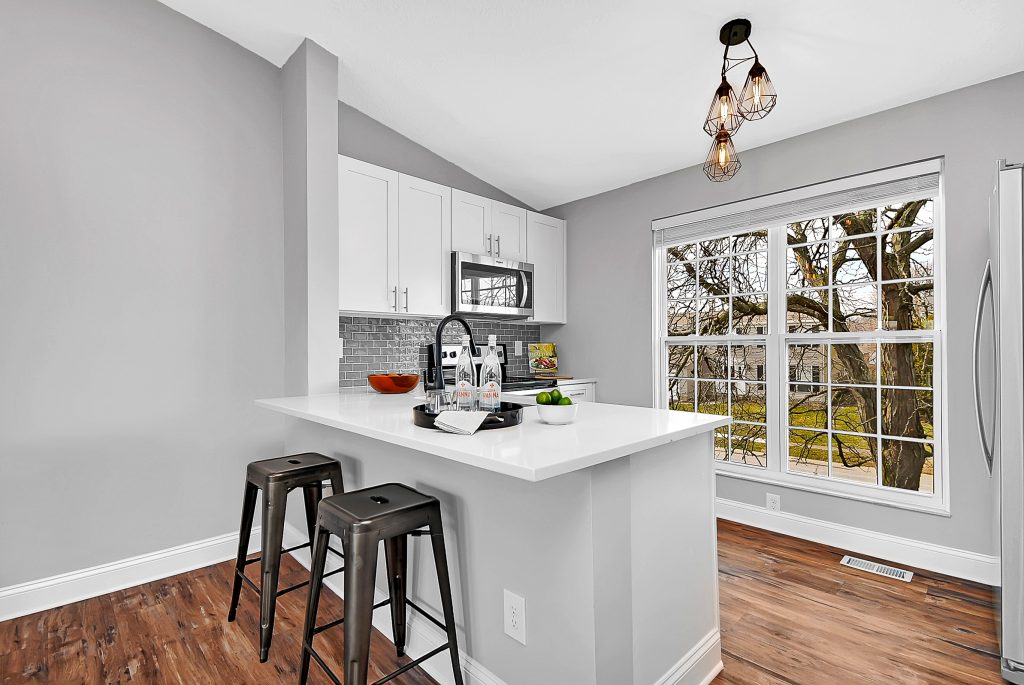 The kitchen is now full of light and space. And that chandelier is ah-mazing!
Let's take a twirl around and see the rest of the main floor. The kitchen is open to the living room.
Living Room
Here's a photo from before when we purchased the house as-is with purple curtains: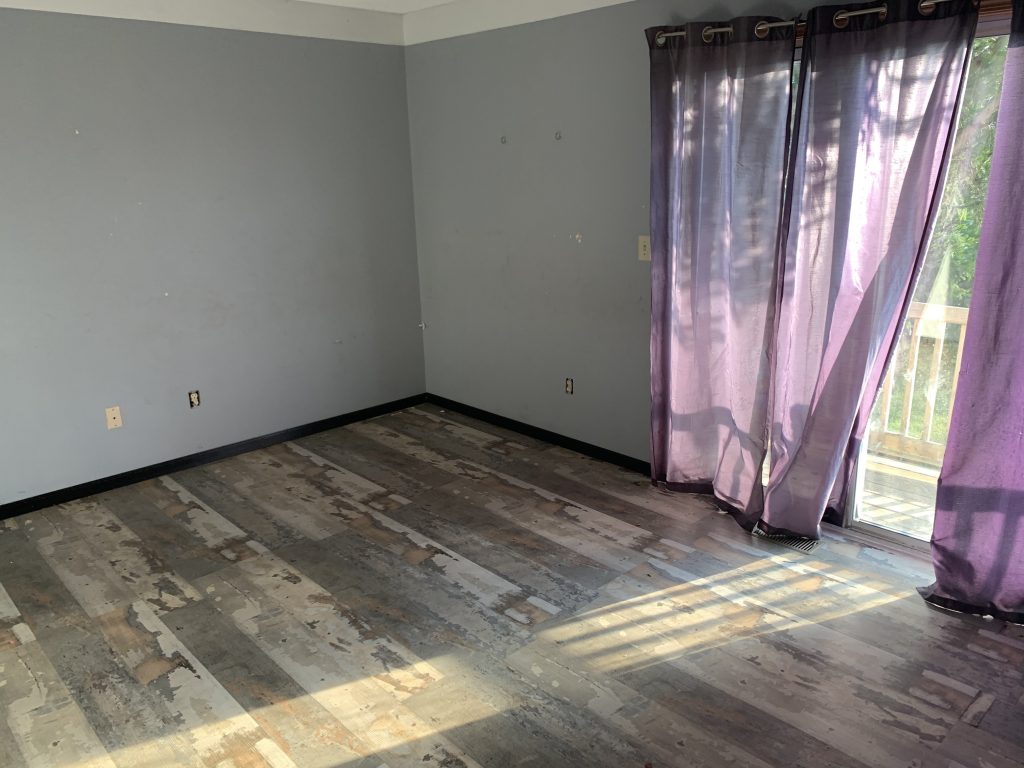 And now: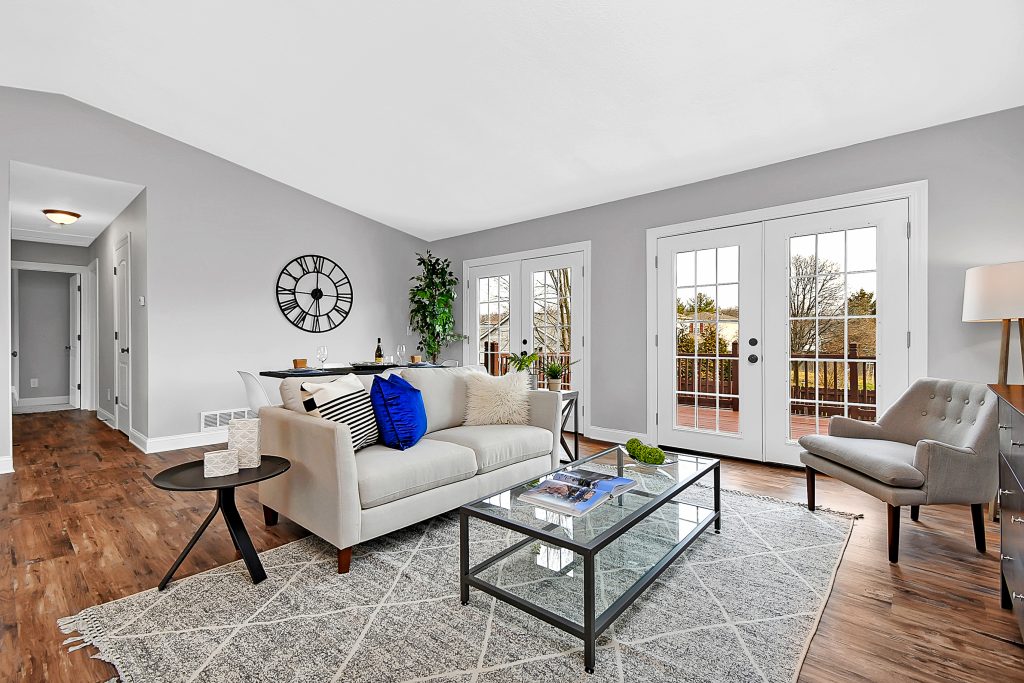 The french doors open onto the deck (pictures below) overlooking the big backyard. Don't you love the wood floors?!
Here's a view of the main floor, looking toward the kitchen and front door.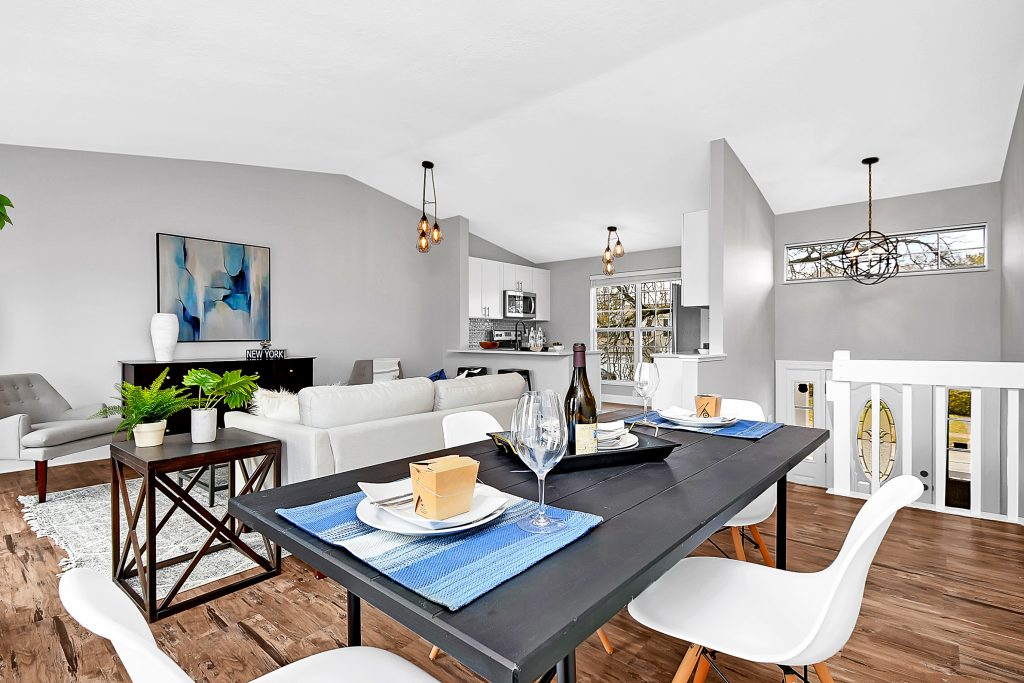 When this pandemic is over, the new homeowner will be ready for a big housewarming party!
The Deck
Here's that huge deck from the outside, looking back those french doors: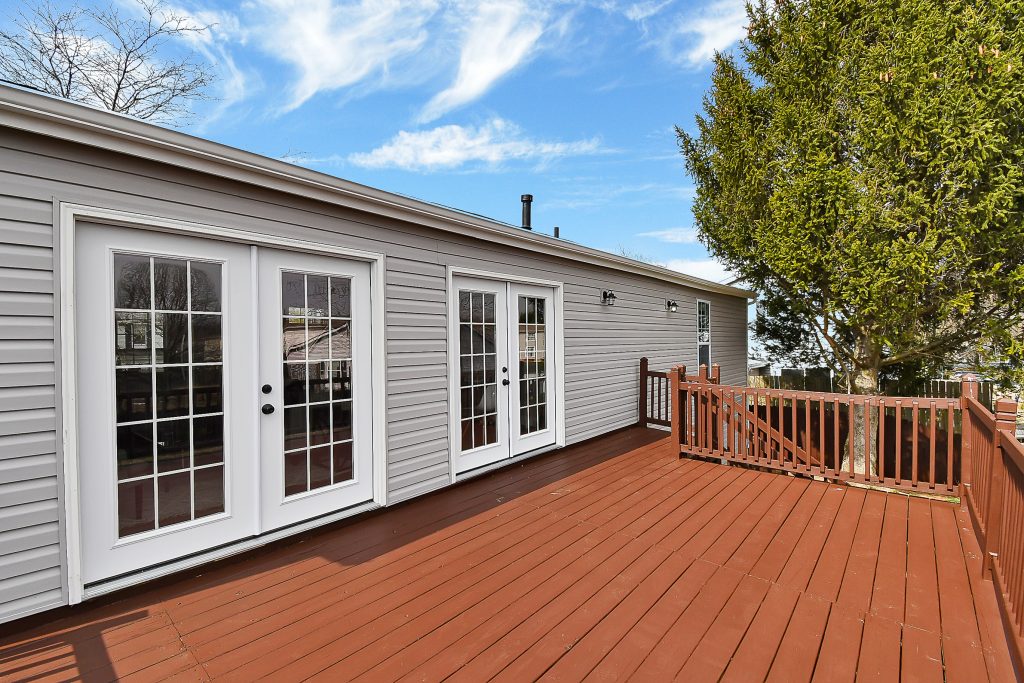 I have visions of a round patio table with chairs, a big shade umbrella, and a grill. Maybe a dog or two running in the yard. When we purchased the house as-is, the backyard was horrible. But now, the house is awesome!
Bedrooms
Next, let's peek into one of the bedrooms. This photo really shows the as-is condition. The seller left all kinds of stuff in the house, but that's OK. We've seen lots worse on an as-is home. Before: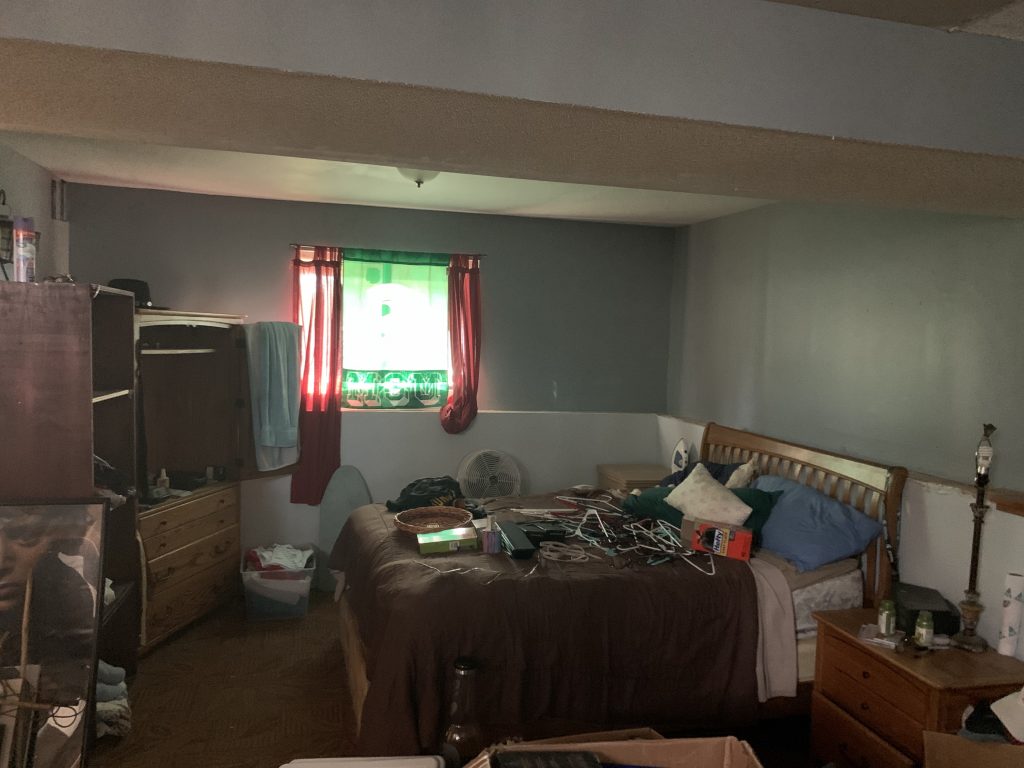 Now it is bright and comfortable: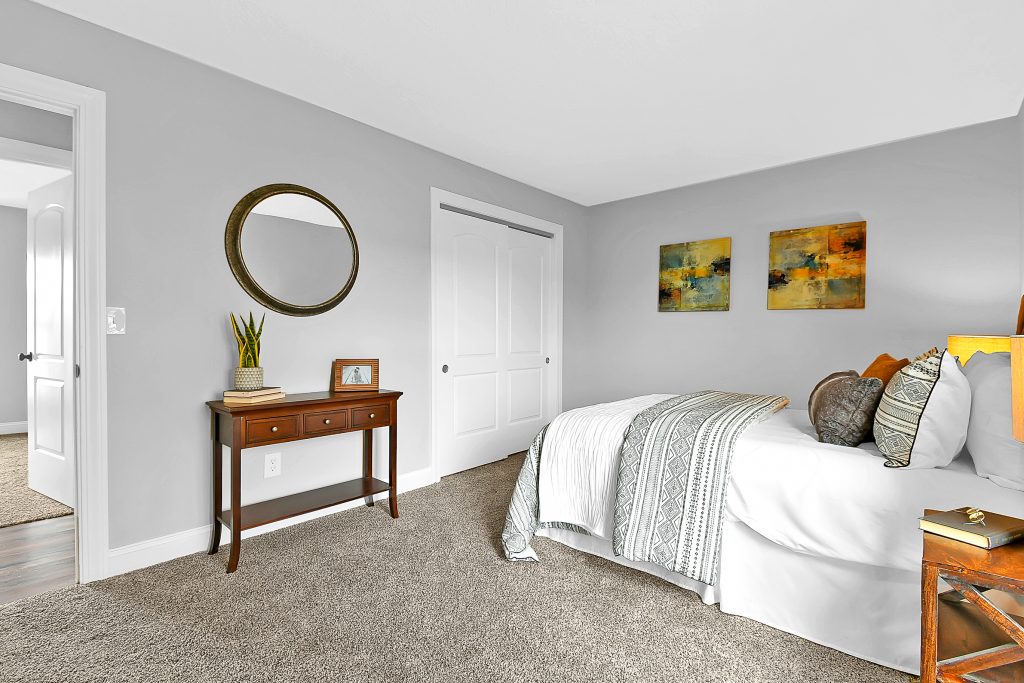 The team at Upward Home Solutions did an incredible job updating this home. It feels so clean, modern, and welcoming. Most of all, I love the colors, the natural light, and the fixtures.
Baths
The bathrooms were in rough AS-IS shape before: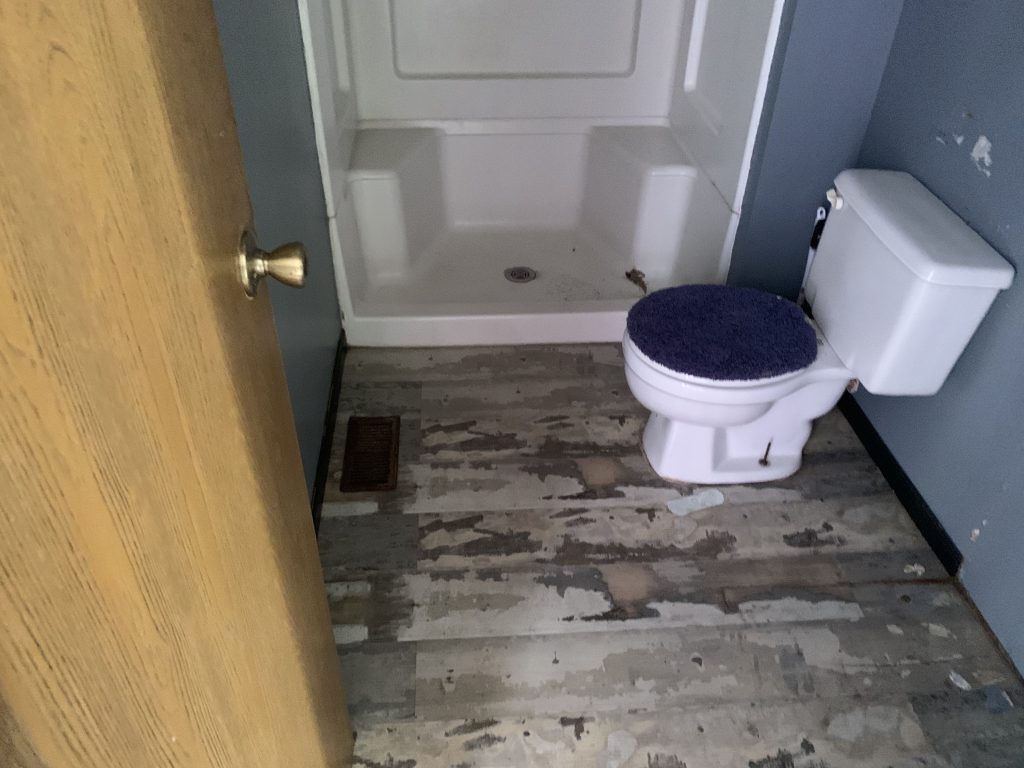 But now look great: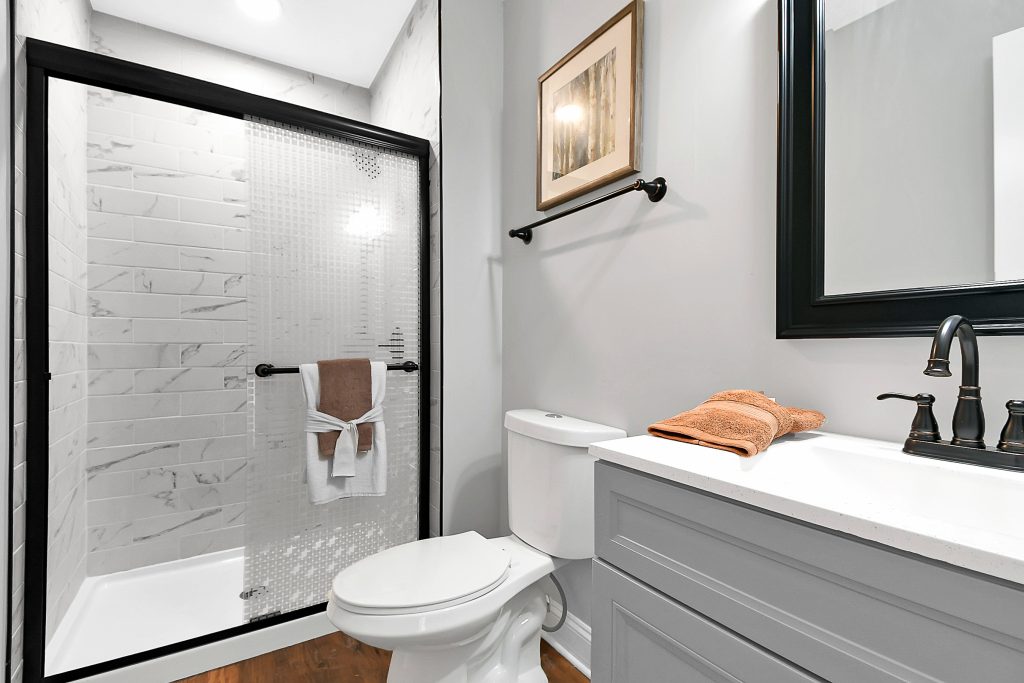 Already Sold!
But before you get too attached to this house and want to buy it for yourself, I have to tell you that it's already in contract. It was only on the market for NINE days. And it sold this quickly, in spite of the fears over COVID-19.
A big thanks to our Realtor, Zach Cantrell, for helping us find a buyer. Pictures and staging are by our friends at 3 Element Designs. For more renovation photos, check out the Delaware Renovation and Clintonville Rehab.
Thanks for taking the visual tour with me.
Stay tuned for the next renovation by Upward Home Solutions.
UHS needs your help to find as-is houses.
We buy houses in any condition, any neighborhood in Central Ohio. When someone wants to sell my house fast, we are the #1 cash buyers in Columbus, OH. We buy houses for cash and will give you a cash offer on house closing costs, even if your house is ugly. We buy houses as-is.
If you know of a house in your neighborhood that has an overgrown lawn, looks vacant, or the homeowner lives out of town, we would like to buy that house as-is. Additionally, we have an awesome referral program and if we purchase the house, we will give you a generous referral fee.
What does As-Is mean?
As-is means that the house is sold without any repairs or updates. The homeowner wants a fast house sale without the hassles of inspections and remediation. In the case of this as-is home, it had not been updated in many years. Other as-is properties might have a lot of stuff inside the house. That's OK. No matter what, the homeowner can take what they want and leave the rest. We have even bought properties that have tenants living in them. Upward Home Solutions buys lots of houses in as-is condition.
Folks moving into assisted living, senior care, or a nursing home really like our service of buying houses as-is. This makes the transition much easier for them and their loved ones. More Articles
Get a cash offer on your house.