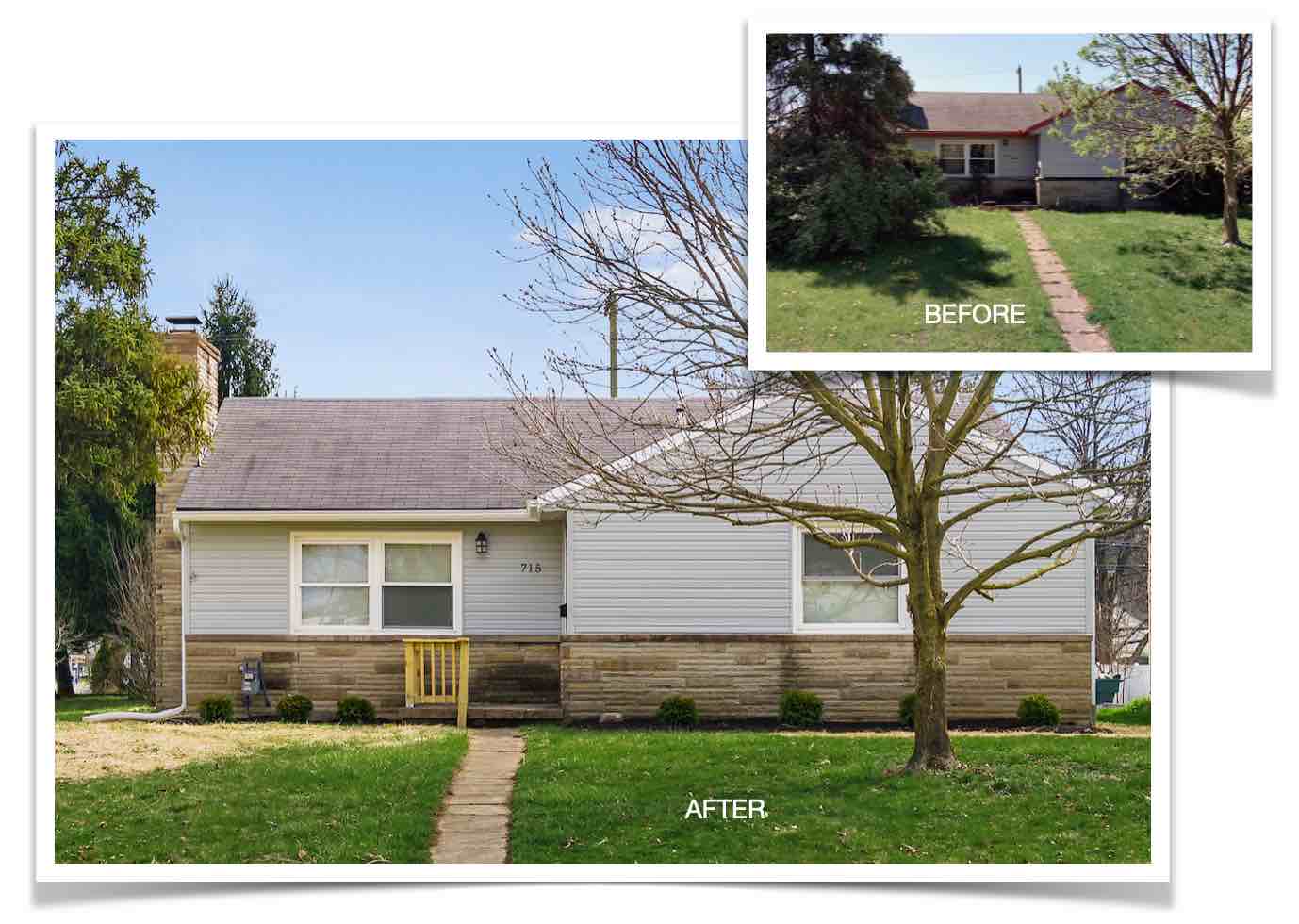 Clintonville Rehab: We Buy Your House
The Clintonville neighborhood is one of the most desirable spots in Columbus. Nestled between the OSU campus and the upscale suburb of Worthington, Clintonville has all the amenities of the city amid the charm of quaint neighborhoods and treelined streets. When you are looking for a "we buy your house" company, Upward Home Solutions should be your first call.
Attractions in the Clintonville area include the Whetstone Park of Roses, the Clintonville Farmer's Market, and the Ohio School for the Deaf and the Ohio State School for the Blind. There are many neighborhood parks, and the area is well served by the COTA bus transit system.
Like other real estate investors, we buy your house for cash. We then invest the time and money to renovate the house and lift neighborhoods.
If you have ever wondered how to get cash for my house or how to sell my house cash, read on.
The House on Weisheimer
When Upward Home Solutions purchased the house on the corner of Weisheimer and Indianola, it was in bad shape. The house had been long neglected by bad tenants. If you have a house like this one, we would like to talk to you. We are cash buyers, and we buy your house as-is.
Upward Home Solutions got to work right away, cleaning out the house and removing the old flooring. We took out walls to give the place a more open layout.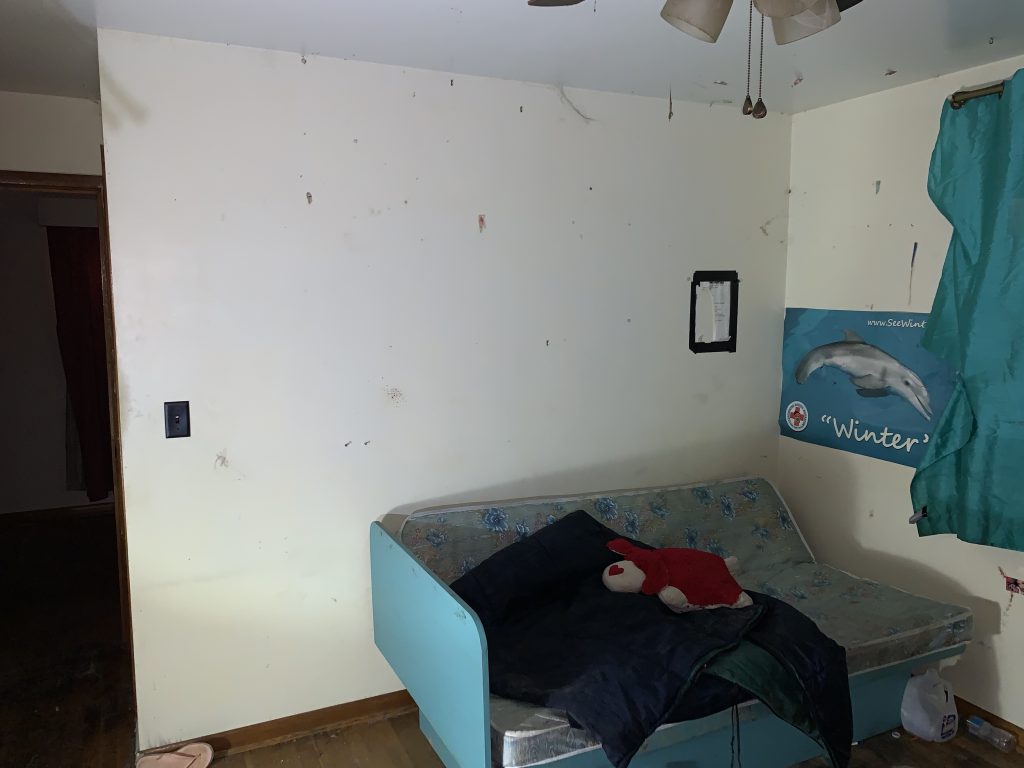 Upward Home Solutions knew that the house had a lot of potential, but would need a complete overhaul. That's OK. We like to buy houses for cash that are old, dumpy, abandoned, or tired.
The Facts and Features
The house on Weisheimer was built in 1951. It has 3 bedrooms and 2 full bathrooms with a total of 1710 square feet. However, this living area does not include the full finished basement. It is situated on a large corner lot with a big, fenced backyard and a deck. There is also a detached garage.
Here's what our Realtor has to say about it:
Brand new inside and out! Fantastic corner lot will be noticed when you pull up! Warm greeting as you enter the home. Lots of natural light shining throughout! Family room features new flooring, fireplace. Open layout to dining area and kitchen. All new stainless steel appliances, gorgeous cabinets and subway tile backsplash. Access the deck here, makes entertaining easy! Master has new en-suite with a tub/shower combo. Very relaxing colors! 2 additional bedrooms and a full bath. Newly finished rec room is located in the basement. Plenty of space for a man cave, play room, workout area! Space for storage with shelving, also can add additional square footage if so desired. Great yard. Detached garage. Easy access to major interstates, delicious restaurants and shopping!
Before-After
The yard in front of the house was overgrown when UHS purchased the property and we built a small front porch.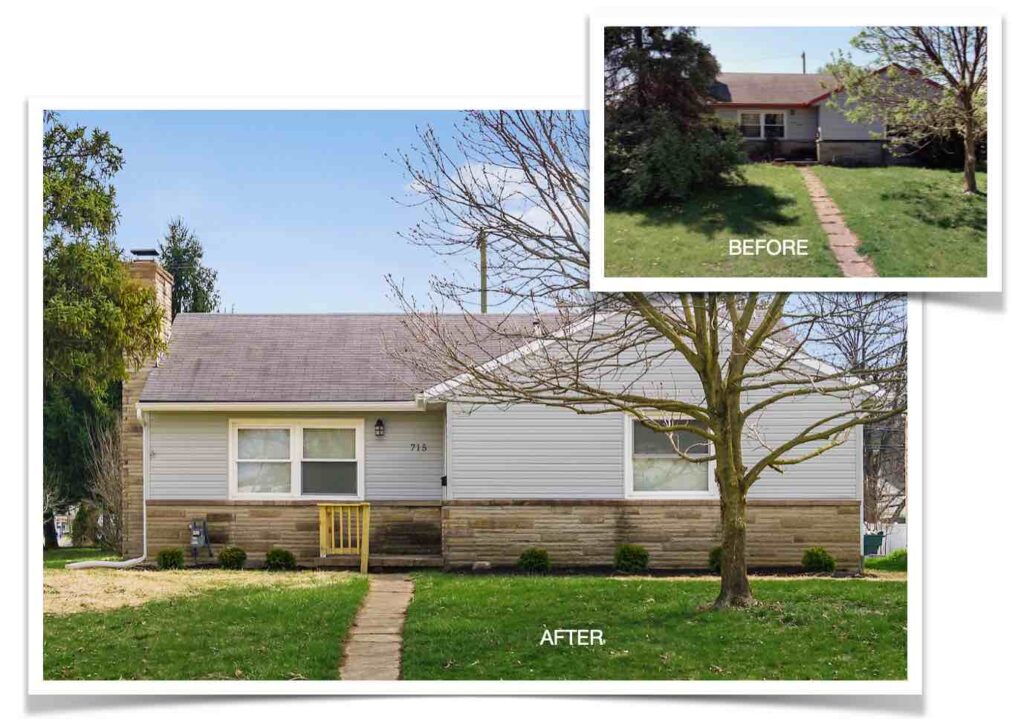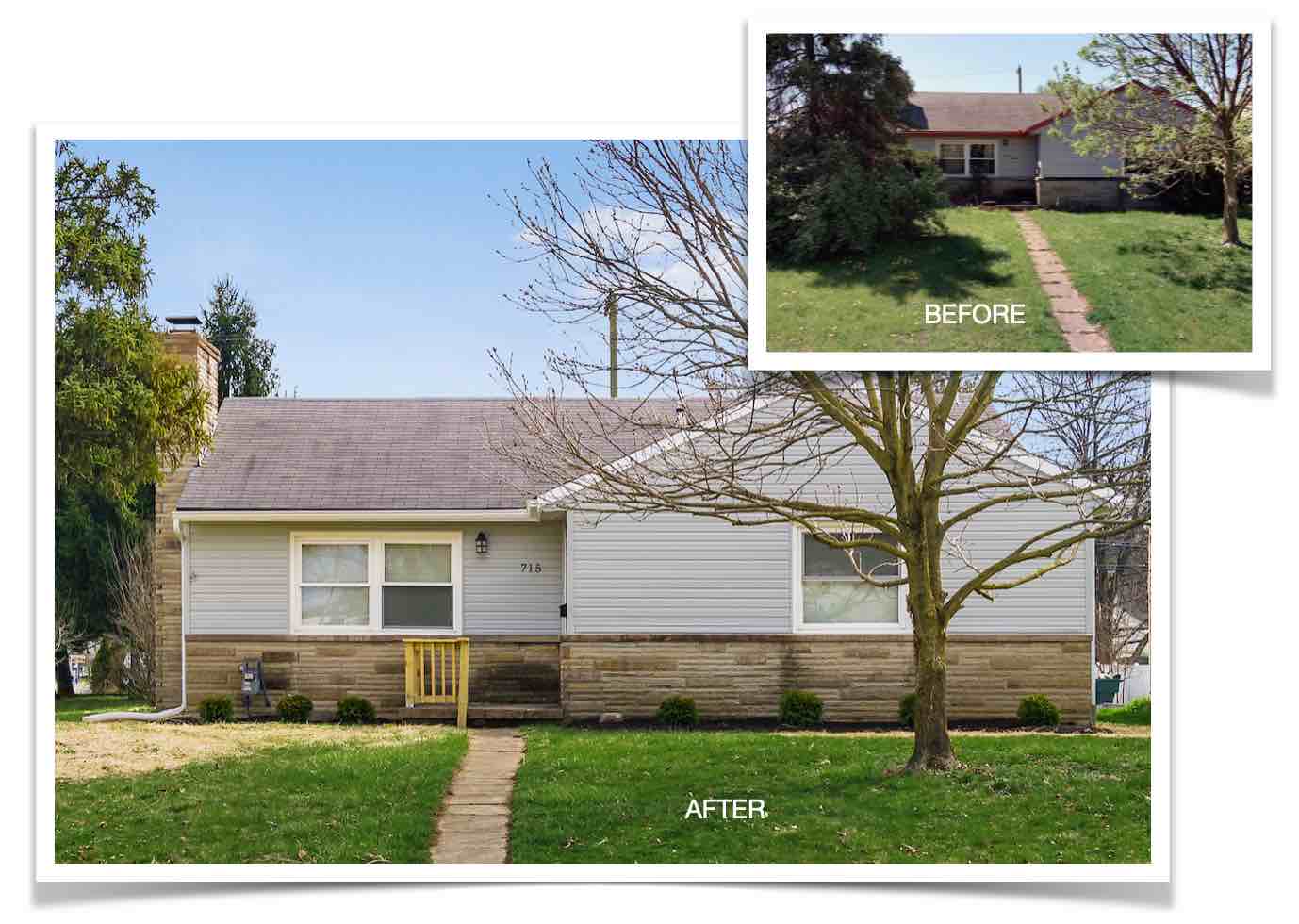 One of the most satisfying transformations was in the bathroom. The "Mamie Pink" tile was original from when the house was built in 1951. We know when we see pink tile or fixtures in a bathroom that it is overdue for a facelift. Remember, we will buy your house even if it needs updates.
We used a neutral grey color template to make the space large and bright. Isn't that tile around the bathtub gorgeous?!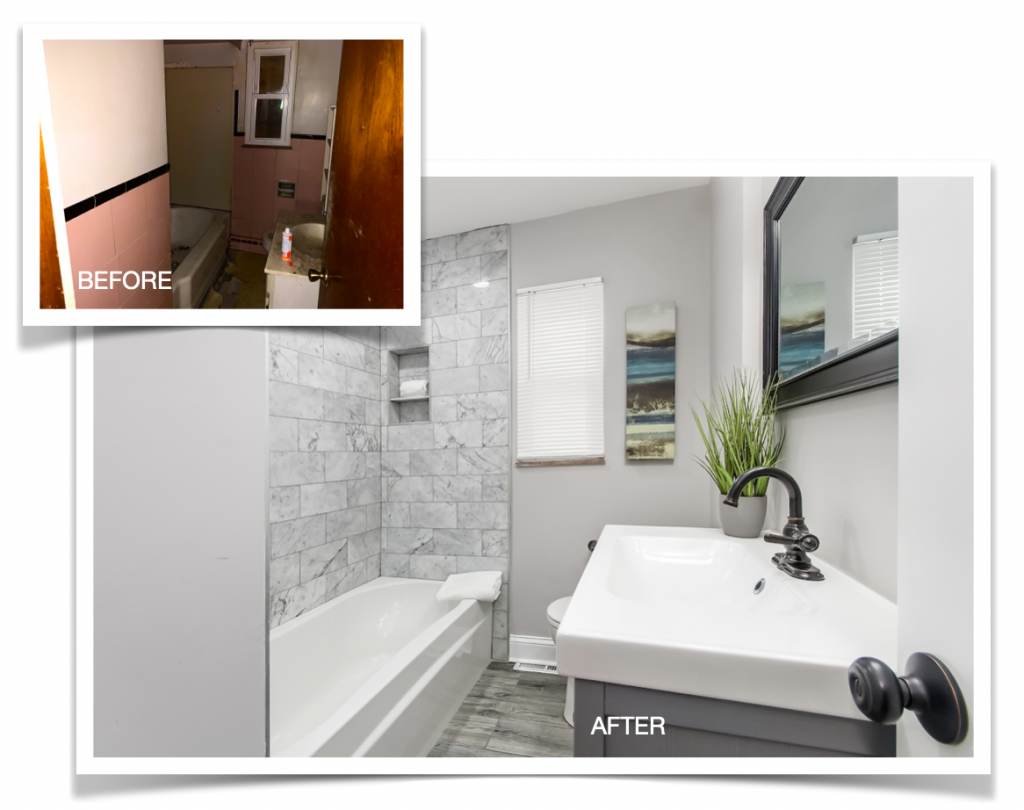 The Kitchen
We didn't get any "before" pictures of the kitchen, but it was a mess. Imagine old wood cabinets with missing doors, carpet on the floor, mismatched and broken appliances, and missing countertop. Everything had to be removed. We will buy your house even if it needs to be completely gutted.
After the renovation, the kitchen is now open and bright with all new stainless-steel appliances. Check out all the cabinet space and counter area.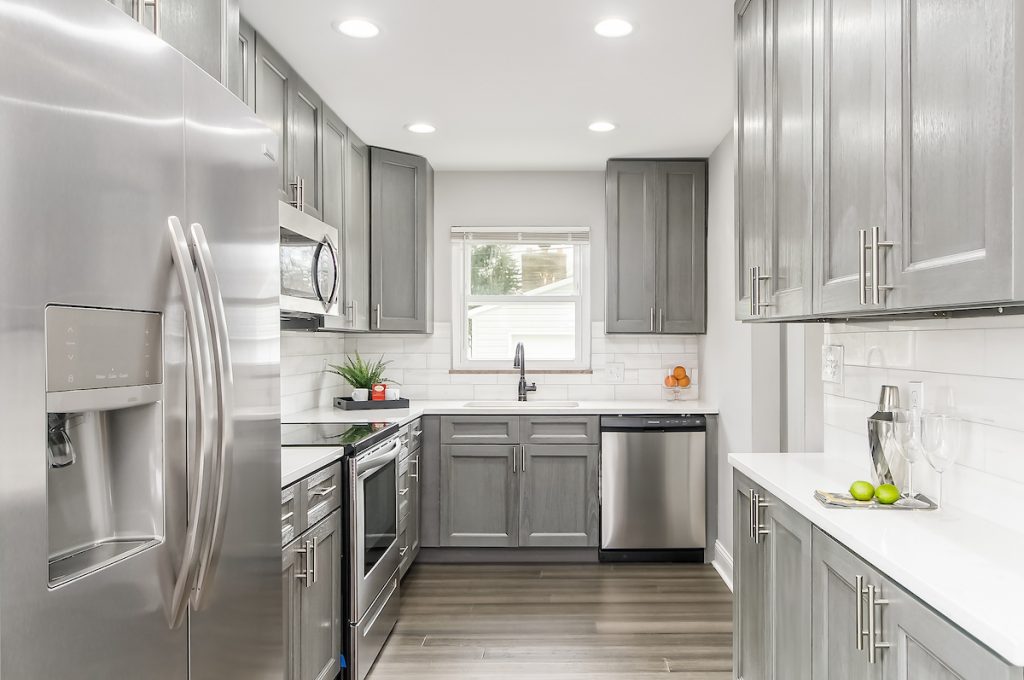 You can see a bit of the garage from the kitchen window and look out to the backyard while washing the dishes.
The Living Room
All new hardwood floors, crisp white trim, and a light grey color on the walls completely transform this space. On a cold winter evening, this room will be the perfect place to cuddle in front of the fireplace.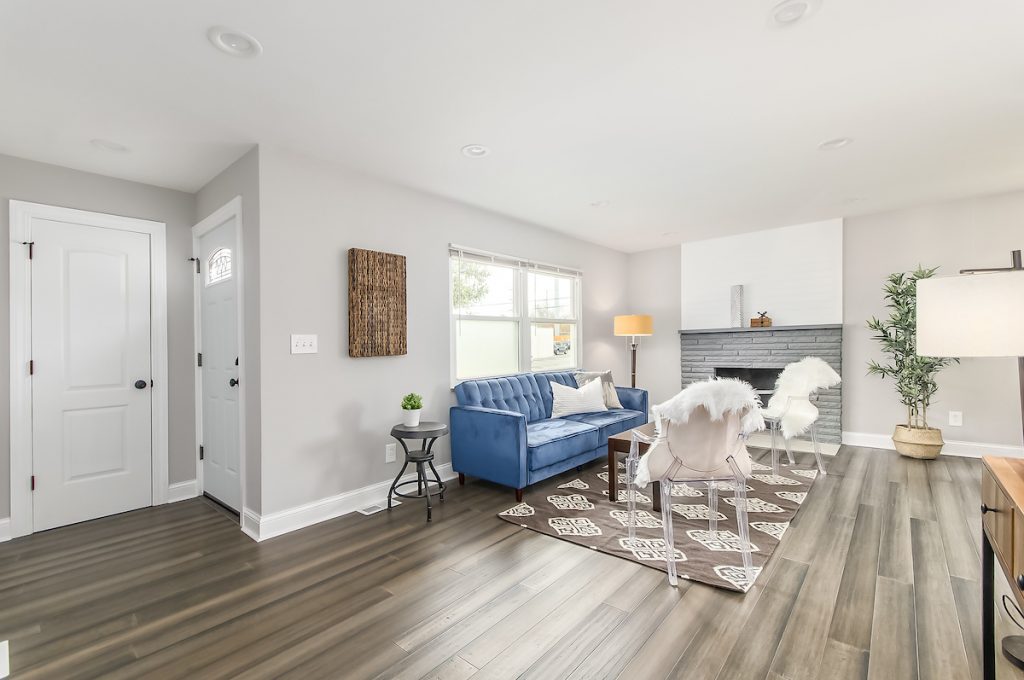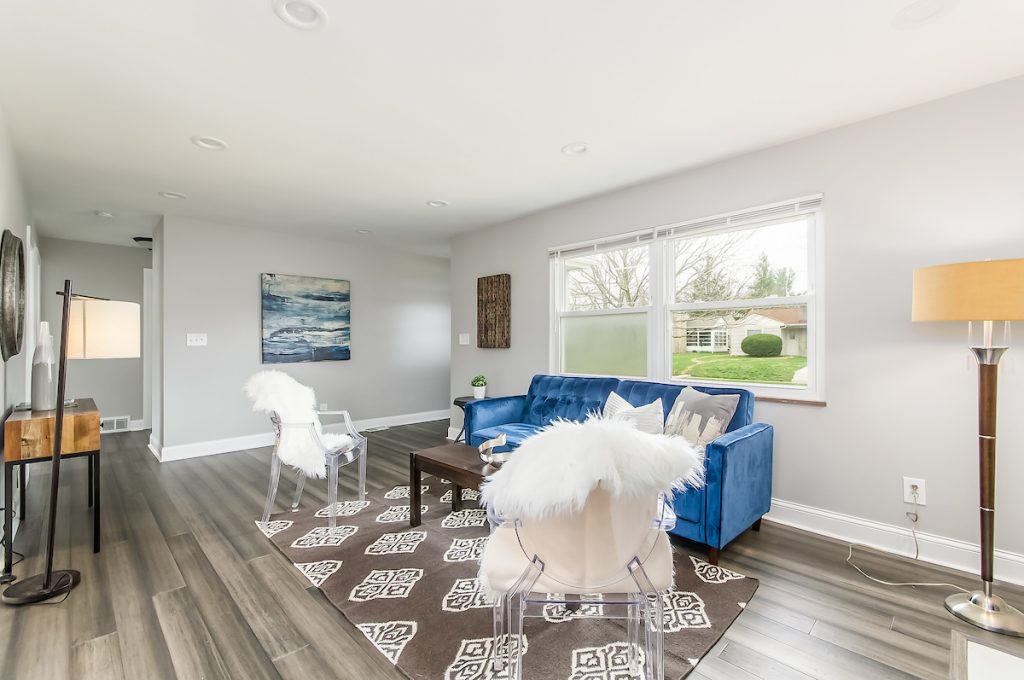 In the picture below, you get a peek into the kitchen and dining area. The house is so much more open and friendly now.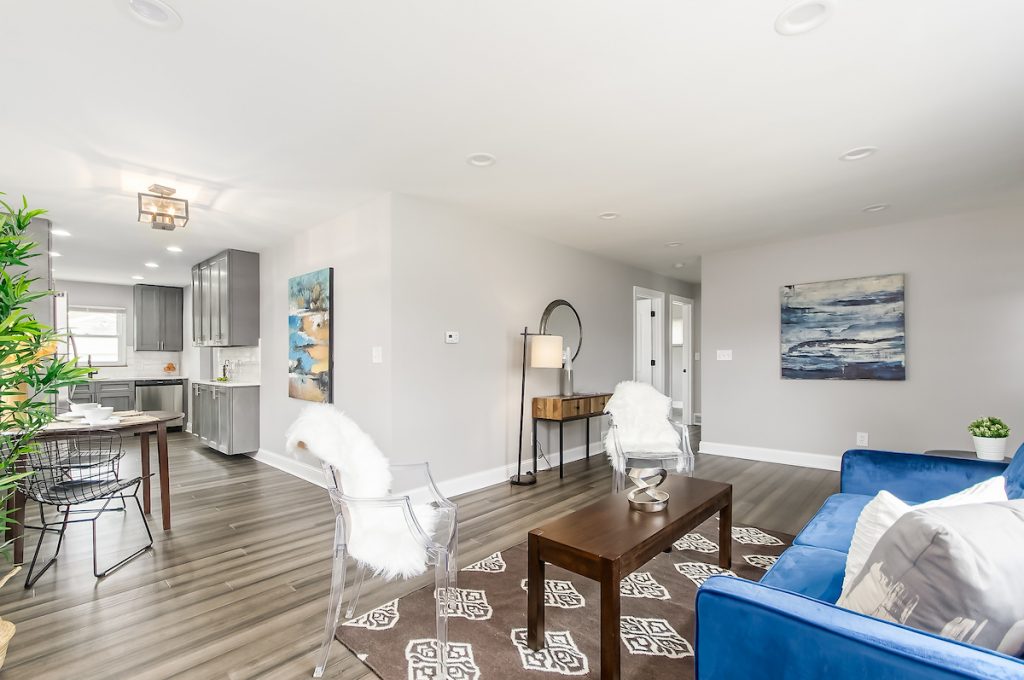 Act Fast, This Home Will Be Gone Soon
The house on Weisheimer went on the market this past weekend. We expect it will be under contract very soon. Already we have heard that people love the location, layout, and amenities.
Other Renovations by Upward
If you enjoyed reading about this flip by Upward Home Solutions, you may enjoy our other blog posts about other homes we have remodeled. We will buy your house in any neighborhood in Central Ohio.
You can also see the latest pictures of our projects by following the UHS Facebook Page. Remember, I buy houses cash.
UHS Has Solutions for You
Whether you are looking to downsize, get rid of a rental property, or sell a house you have inherited, Upward Home Solutions is the quickest, easiest way to sell a house in Central Ohio. We buy your house for cash.
Our simple, 3 Step Process takes the uncertainty and hassle out of selling a house. For a quick house sale, follow these steps.
Call Amy at 614-705-0866 today.
Meet with Tim (or do a virtual walk-through) and get your CASH offer.
Our team will set up a closing at a title company.
Remember that UHS will schedule a closing on your timeline. We can close in as quickly as a week, or you can schedule for several months in the future. You decide. You can attend the closing or sign all the documents digitally. Get a check the day of the sale or have the money wired to your bank account. We buy your house and walk you through every step. When you need to sell my house Columbus, OH, talk to UHS first.
Know Someone With A House To Sell?
We have an awesome referral program where we will pay you for helping us find houses. UHS is especially looking for old, ugly, abandoned, dumpy houses. We like to do the updates ourselves. Upward Home Solutions buy houses across Central Ohio in all conditions. We will buy your house too!
If you know a house that needs TLC, you can fill out an online submission form here. Give us as much info as you know and we will take it from there. If we purchase the house, we will give you cash for helping us out. We will buy your house or one in your neighborhood. Thanks!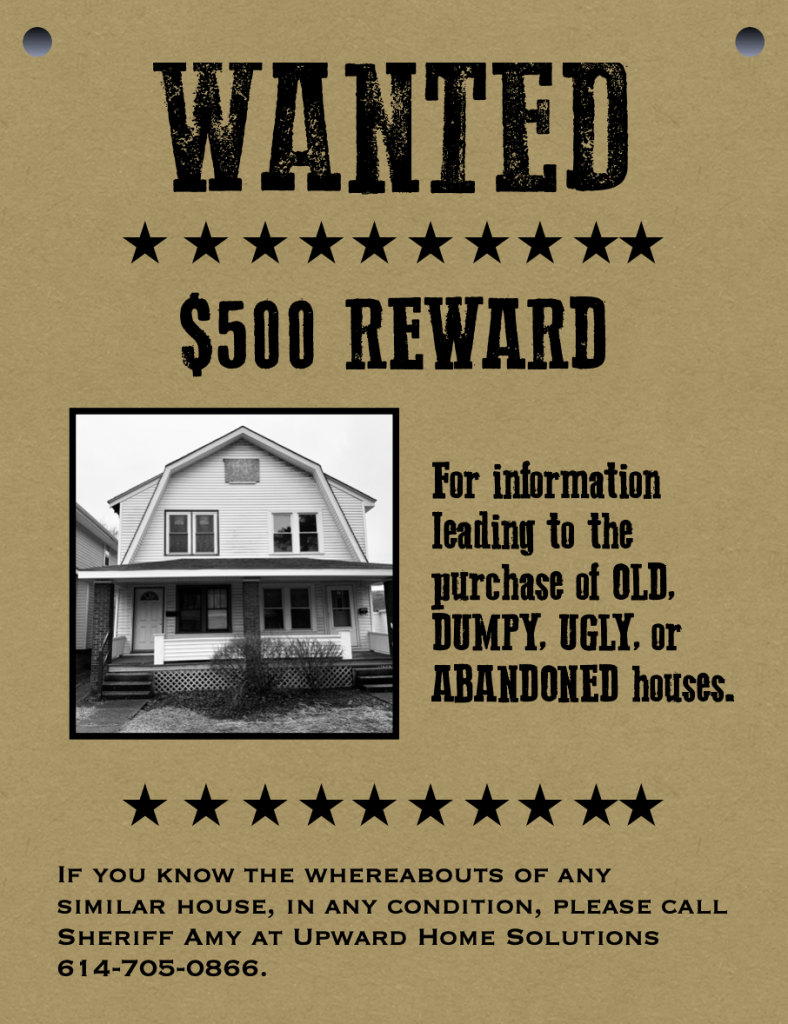 More Articles
Get a cash offer on your house.