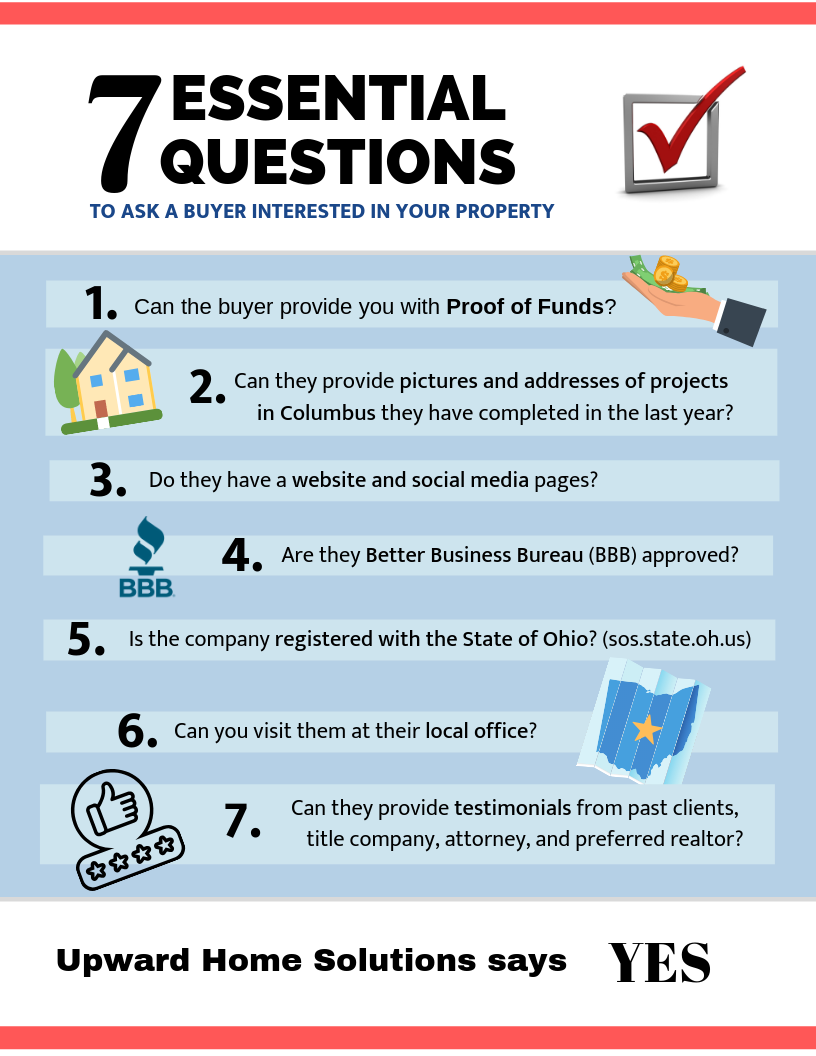 7 Signs of Reputable Home Buyers
When it's time to sell your house, you want the most money and the least amount of stress, right? That only comes when cash buyers have a transparent online presence, plenty of reviews, and a history of ethical business practices. The thing to remember is that reputable home buyers don't need to trick you. So if it feels weird or too good to be true, it probably is.
And some folks are downright sneaky.
Reputable Home Buyers Don't Do This…
I received an email yesterday from someone named Kathy who said that joy of joys (!), I had a "pending offer for the sale of my house." Well, this was wonderful news! The slight issue though: not only was my house not for sale but I'd never heard of Kathy or her company.
Curious, I clicked on a link in the email that said, "review offers." Immediately, I was prompted to enter increasingly personal information on a dropdown menu.
The final prompt asked for my email address to "receive my offer."
That's when I noticed the fine print.
"By clicking the button above, you acknowledge, consent and agree to the following … You are providing express written consent for (name of company redacted) to share your information with up to four (4) of its premier partners and for (company) partners calling on behalf of (company) or authorized third parties on their behalf to contact you… about financial services or other credit related offers…."

(Bolded emphasis mine.)
How rude! Kathy had no intention of buying my house or any house for that matter. Cheap stunts like this exist to gather your information and sell it to people who will call, text, and email you to sign up for credit cards, trips to Aruba, and other random scams. These are the Ohio cash buyers that make the rest of us look really bad.
Reputable Ohio Cash Buyers
You've probably seen the "we buy houses" signs or heard of the cavemen looking for ugly houses. That's not us. Please take one thing away from this article if nothing else: Not all Ohio cash buyers are the same. We would never use illegal signs on telephone poles or advertising gimmicks. In fact, most of our business comes from word of mouth. People love the legitimate home solutions we offer and our level of customer service, so they tell their friends. It's often as simple as that.
The Road to Finding Reputable Ohio Cash Buyers

Be a Savvy Home Seller
This is where finding, vetting, and working with reputable home buyers like Upward Home Solutions makes all the difference. For example, we only buy houses in Central Ohio. When you call us on the phone, you will reach either Tim or Amy directly. These are real folks who won't give you some high-pressure sales pitch. In other words, if you tell us you're not interested in selling your home for cash, all good. We take you off the list. Period.
And we would never sell your information to anyone. That's so dishonest. We're here to provide genuine housing solutions for our Columbus community. But please don't take our word for it…
Do Your Research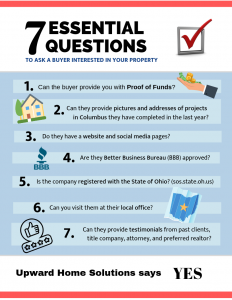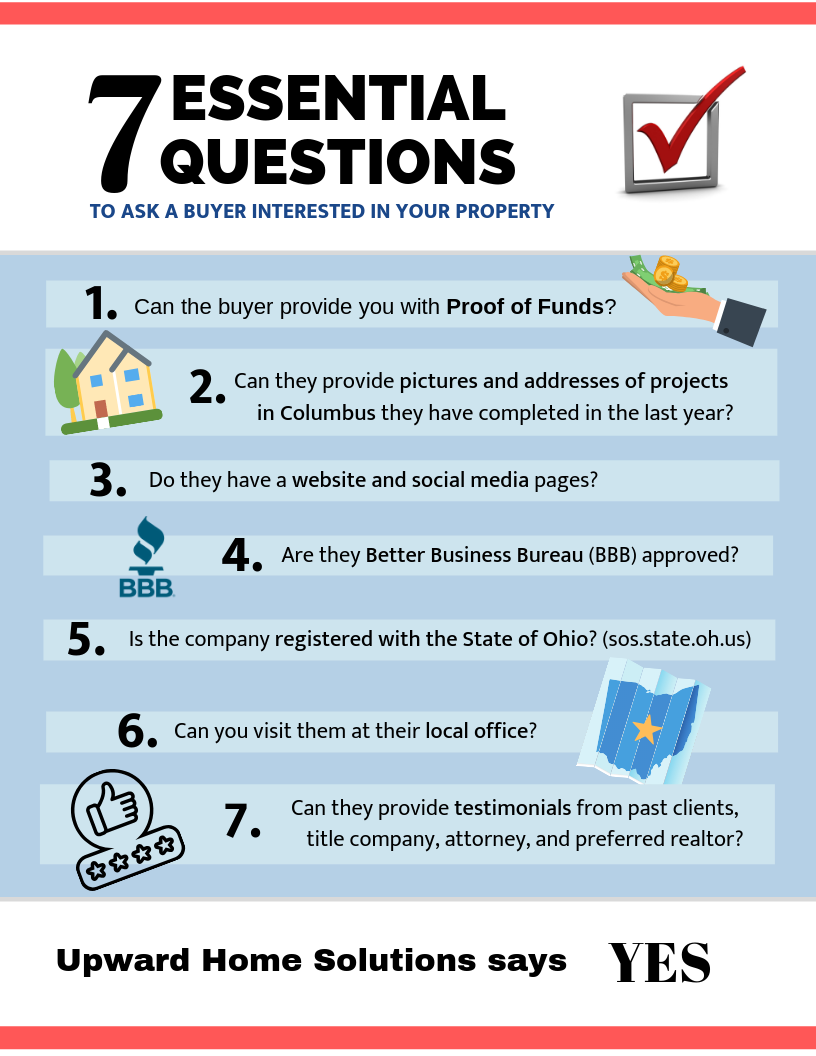 1. Proof of Funds
Before you sign a contract with a cash buyer, ask for "proof of funds." Why is this important? If someone wants to buy your house, you need to make sure they have the money to buy it. Otherwise, the sale could be stalled or stopped because the buyer doesn't have the money to buy the house.
Upward Home Solutions has money in the bank, ready to be used at any time. Unlike other Ohio cash buyers, we do not need to go to a bank to get financing. Remember that a bank will probably want inspections and appraisals. Don't waste your time or money on a buyer that doesn't have the funds in place.
We can show you that the money is available to purchase your house today. Don't mess around with a company that won't show proof of funds. We buy your house for cash… and we can prove it.
2. Ask for pictures of other projects.
Make sure that the person you are dealing with is a professional and that they have experience with direct home buying. The sale of a house is a complicated process with legal and financial obligations. You want Ohio cash buyers who have real experience and can lead you through the process. Here at UHS, we have an entire team of friendly, experienced pros — all equipped to help our sellers with every angle of their sale.
Upward Home Solutions has purchased hundreds of houses in the Columbus area. Would you like to see some before and after pictures? This is one of the coolest parts of our job. Here are a few articles and a video about our recent projects:
3. Check Website and Social Media Pages
Always visit the websites of Ohio cash buyers to see how teams present themselves. They should provide tons of information and an extensive FAQ page that makes your move easy. Just ask Jo! ⤵️
Another way to weed out fly-by-night Ohio cash buyers is to look at their social media presence. We make a point of staying active on Facebook so that people can always see what we're up to. Feel free to poke around or reach out with any questions!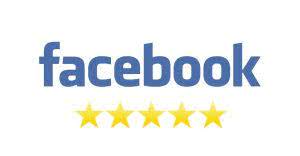 5. Ratings at Better Business Bureau
The Better Business Bureau is an excellent source of trusted information. To determine if you're dealing with reputable cash buyers, check the company's rating.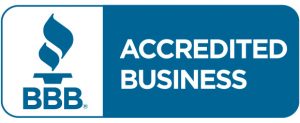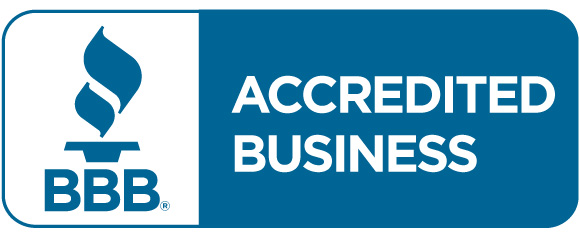 Upward Home Solutions, for example, has earned an A+ rating. That means that our business practices consistently meet the highest standards in 13 categories. Businesses cannot pay to get a higher Better Business Bureau rating, and the reviews are verified by customers.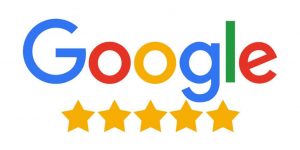 Google is another great vetting resource. Be sure to read through the Google Reviews for any company you do business with. For instance, if a company has a three-star rating or just a couple of reviews, that should warrant hesitation.
6. Registered with the State of Ohio
You wouldn't believe how many fly-by-night investors there are. Anyone can pose as a cash buyer, but are they really?
When you need to sell a house fast, you may think you don't have the time to check into the background of every company you're considering selling to. One quick way to check someone's credentials, however, is to look them up on the State of Ohio Business Registry Search. You will be able to see how long the company has been in business and how it is incorporated. Beware if the person you are dealing with is not on this list!
7. Testimonials
Upward Home Solutions is proud of its record with happy homeowners. You can read testimonials about us. Please watch the video below to learn what sets us apart from other Ohio cash buyers.
We partner with PM Title, a local title company for the majority of our closings. Their people go out of their way to make the transaction as simple as possible. In fact, they did a recent closing for us at a nursing home because the homeowner had mobility issues. It's just one more way that we make selling a house easier.
UHS will gladly provide a list of references that you can call and talk to. We invite you to dig and do your research. We want you to feel comfortable with our company, our people, our process, and our services.
Upward Home Solutions is Columbus' most trusted Team of Ohio Cash Buyers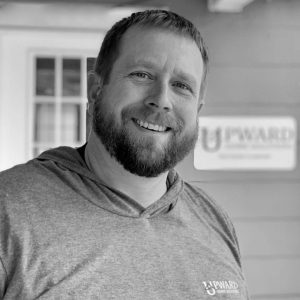 Call us today to talk to Tim or Amy. We'll give you a fair cash offer on your home. No obligation. No strings attached.
We pay cash for houses in any condition.
614-705-0866 More Articles
Get a cash offer on your house.