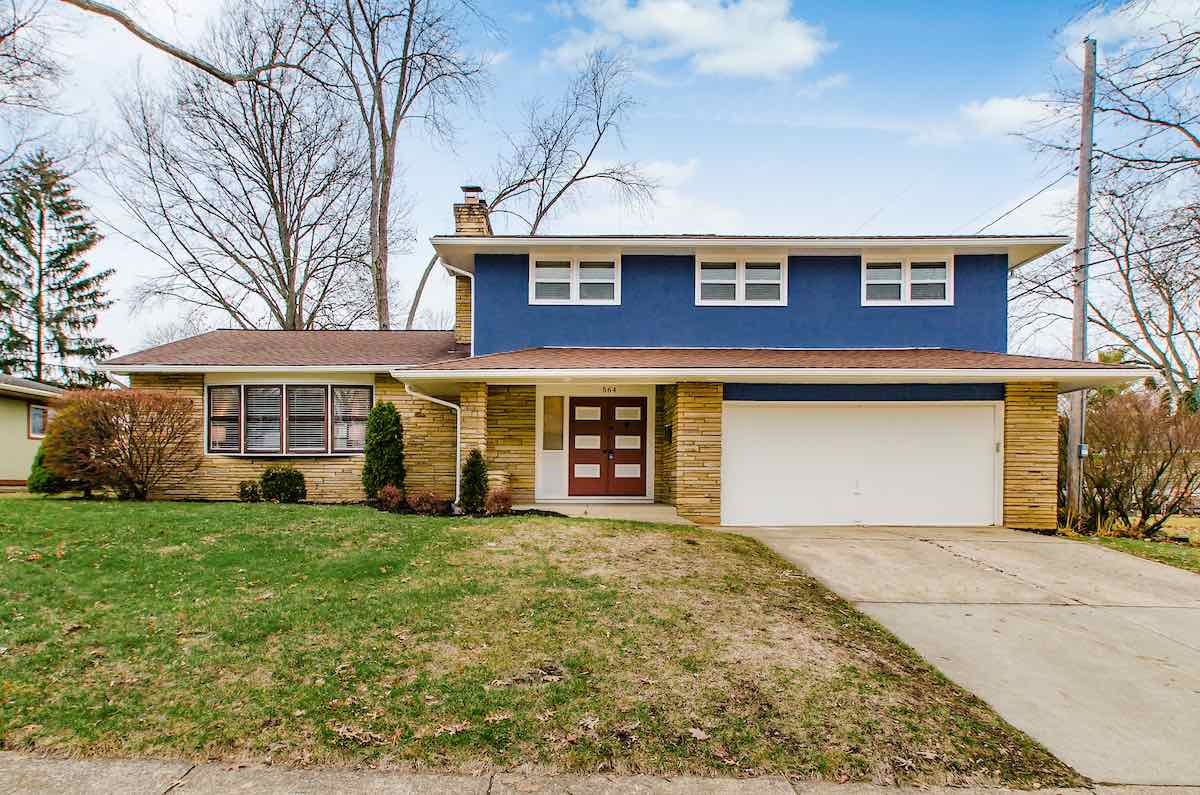 Revitalizing Neighborhoods, One House At A Time
Upward Home Solutions is committed to revitalizing neighborhoods. We believe in the work of investing in communities to uplift individuals. The way our company helps do this is by buying houses that have fallen into disrepair. We invest our time and money into fixing them up and finding new families who can make new memories in them. These sorts of renovations increase the value of a house, which raises the value of the neighborhood. In time, that leads to money flowing back into the district in the form of school funding, city infrastructure support, and even public library funding through property taxes.
We're proud to share our most recent neighborhood revitalization project!
A sweet, elderly couple in Westerville had owned their home for nearly 40 years. But they were ready to downsize. The house had not been updated in some time, and the couple didn't want to spend the money or take the time to fix things up. The neighborhood, too, was ready for revitalizing.
Originally, they spoke to a real estate agent, who suggested they would need to spend at least $30,000 to renovate the kitchen and bathrooms in order to sell. And if that weren't enough selling stress, they were facing the lengthy process of sorting through years of accumulated stuff, renting a storage unit for extra furniture, and staging the house for showings. None of this seemed like a good idea to the couple, who were ready to move on with the next phase in their lives. In the end, they were ready to forego listing with a realtor, and sell their house to a speedy buyer they could trust instead.
They called Upward Home Solutions, Columbus, Ohio's most reputable cash buyer.
Before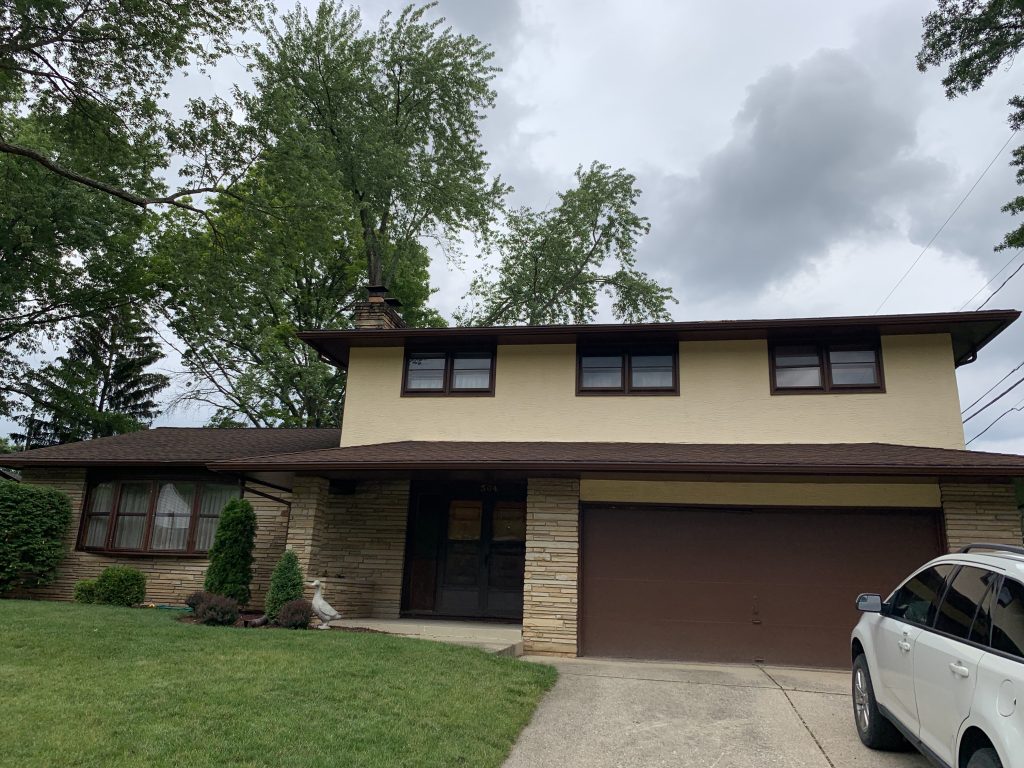 After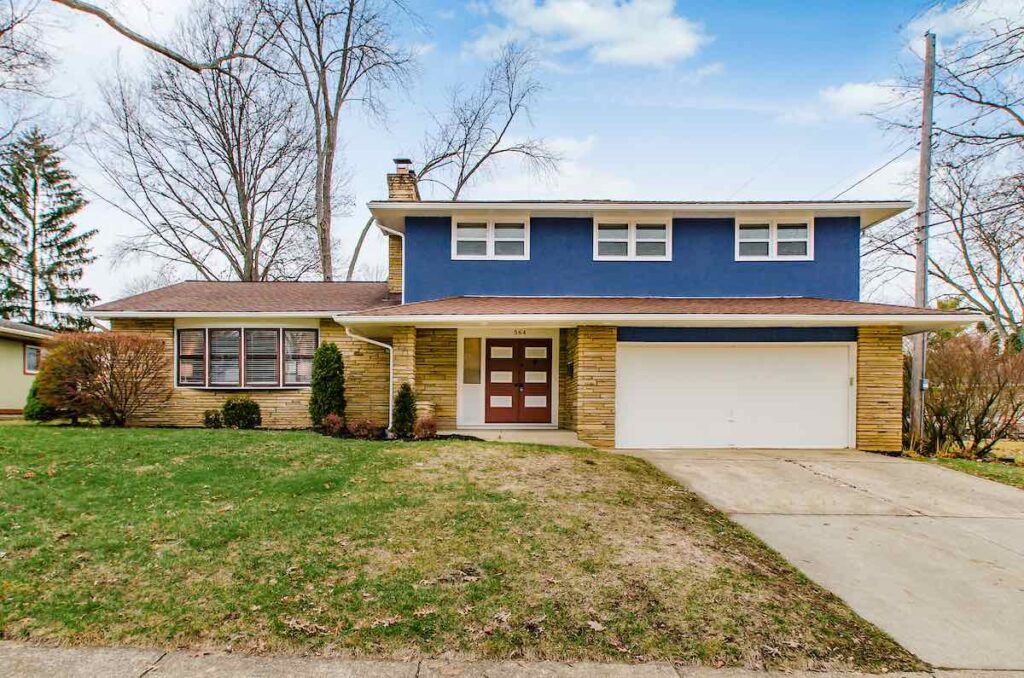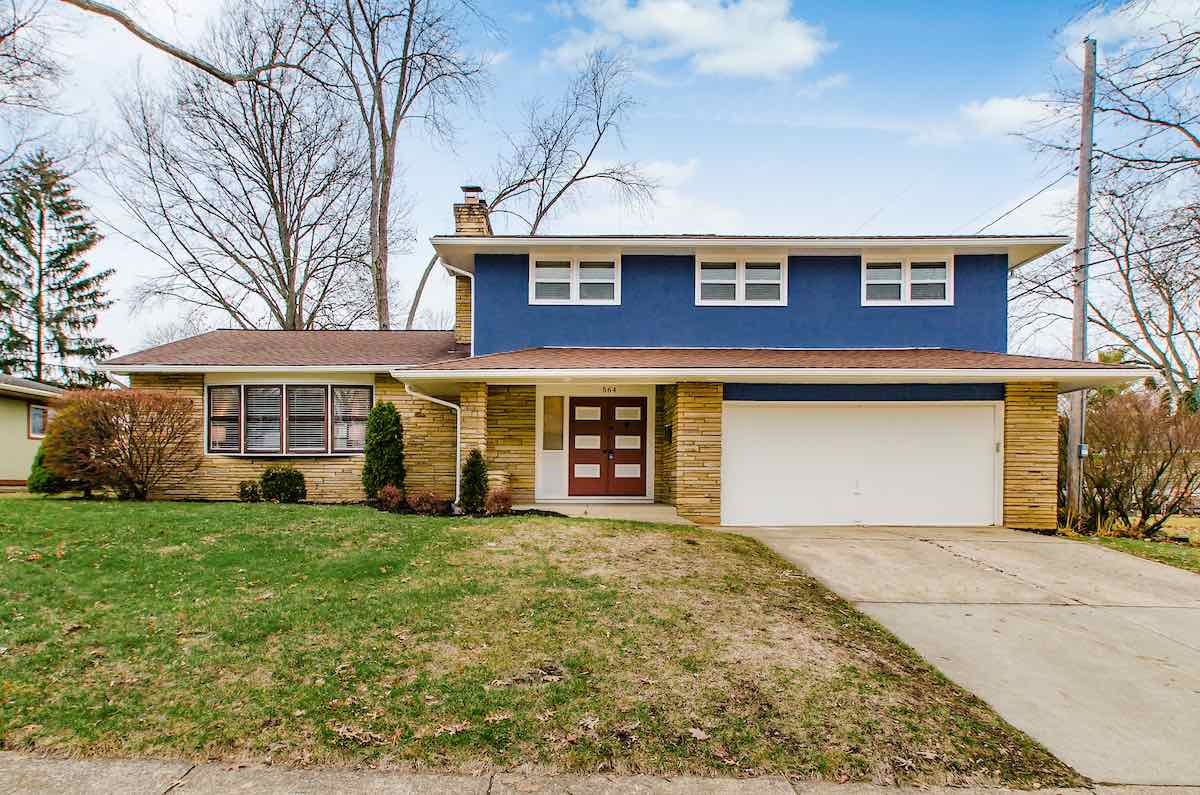 Upward Home Solutions was able to offer the homeowner a fair deal, and we closed quickly.
Kitchen
The house included a lot of dark wood features, including oak cabinets in the kitchen.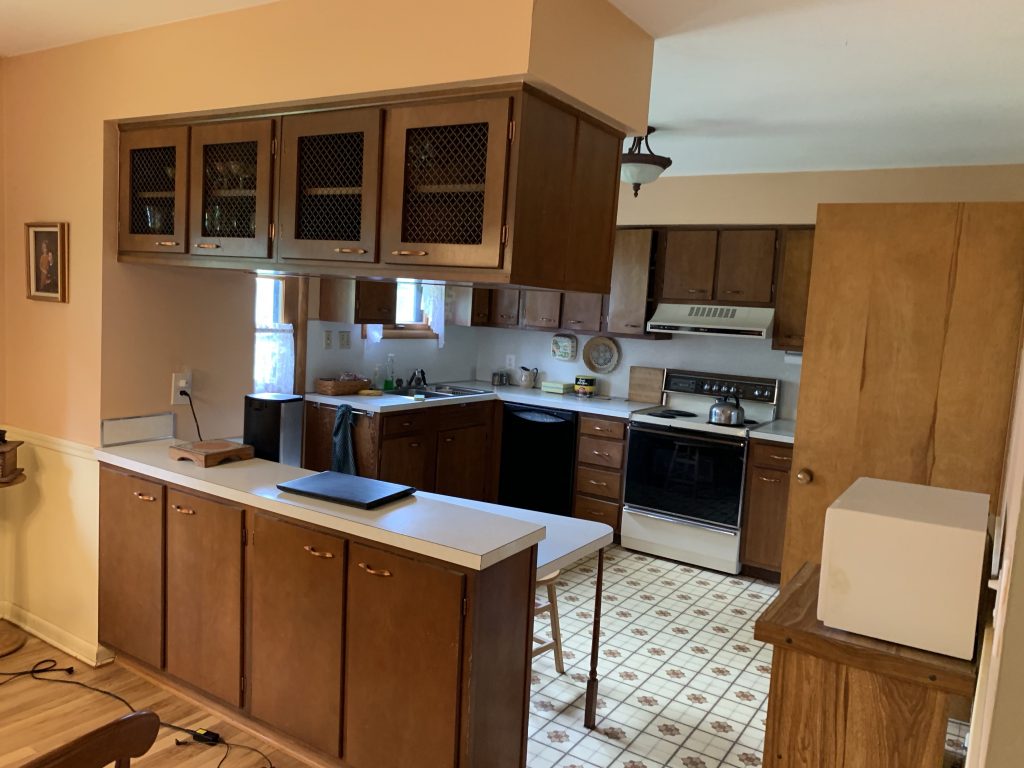 After purchasing the house, we removed all of the old flooring and cabinets. We wanted to buld on the good bones in the home that this couple had enjoyed for so many years. Fresh white cabinets, stainless steel appliances, grey tile, wood flooring, and new lighting fixtures proved to be a welcome replacement.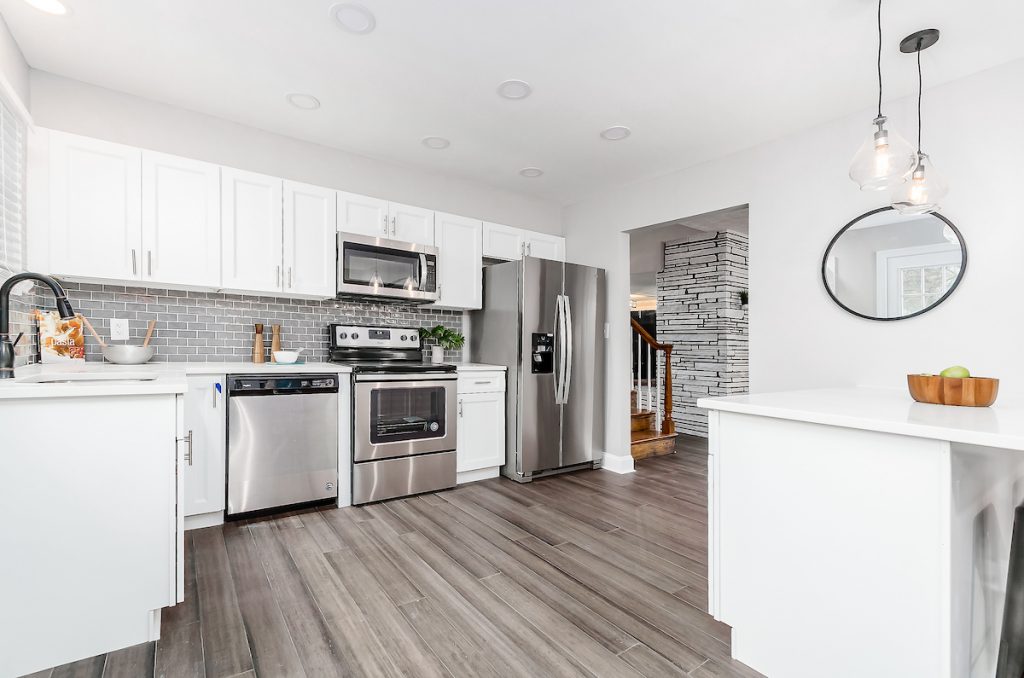 To give the kitchen a more open, airy feel, we tore out the half wall separating the kitchen from the dining area. A kitchen island gives more counter space and storage today, without blocking the natural light coming through the space.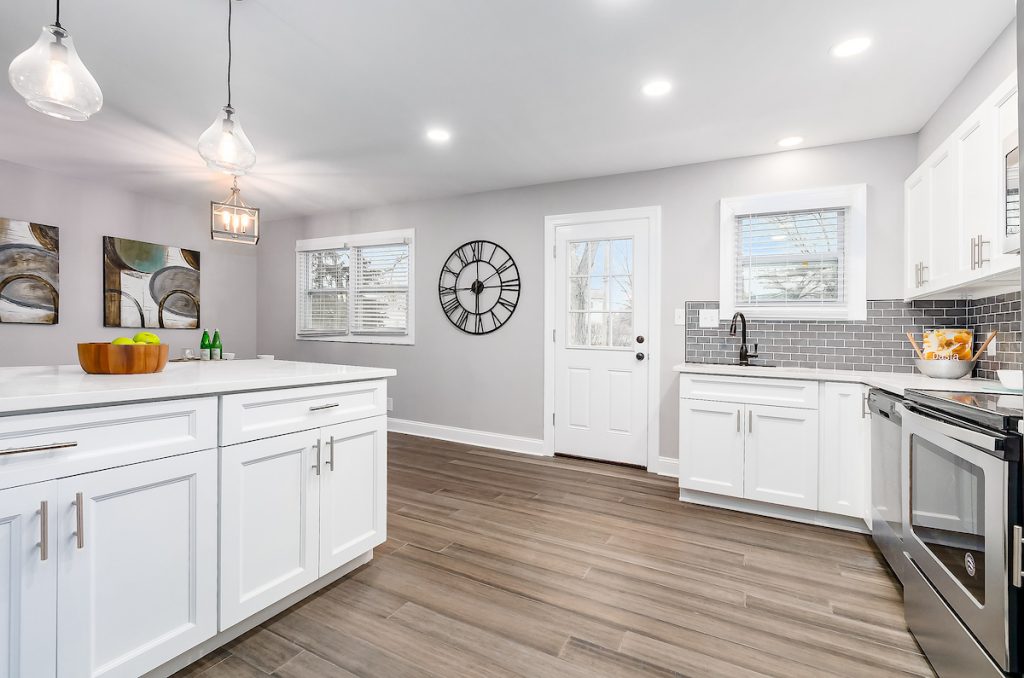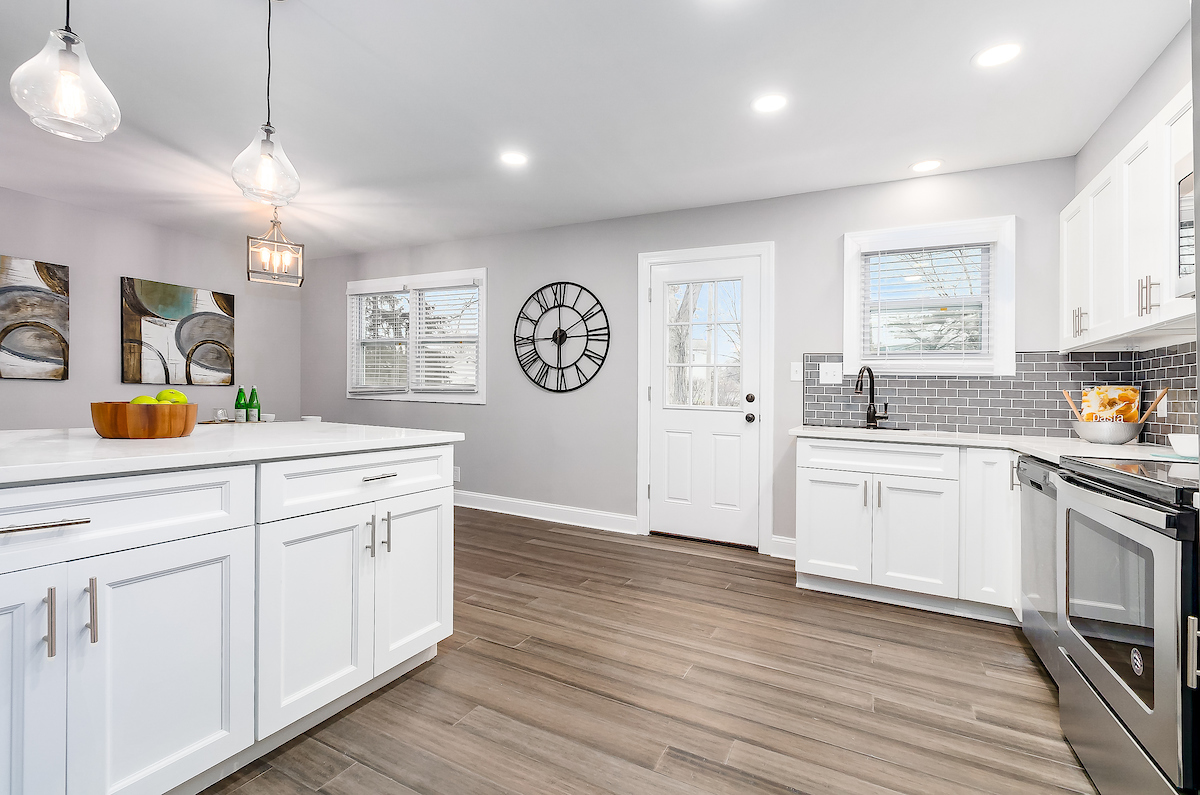 Surprisingly, even to us, this renovation made the kitchen feel at least twice as large. The whole first floor opens up from the kitchen through the dining area and into the living room now. It's perfect for entertaining or a big family gathering.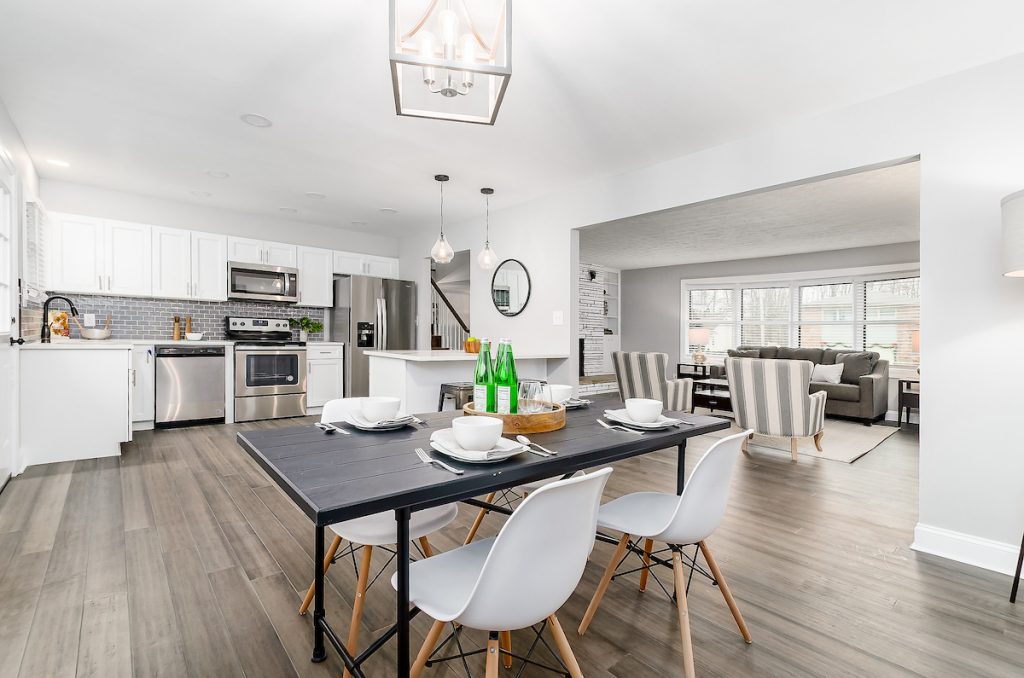 Bathroom
The master bathroom had antiquated "French Country" glazed cabinets from the 1980s. Not exactly our idea of 2020 style!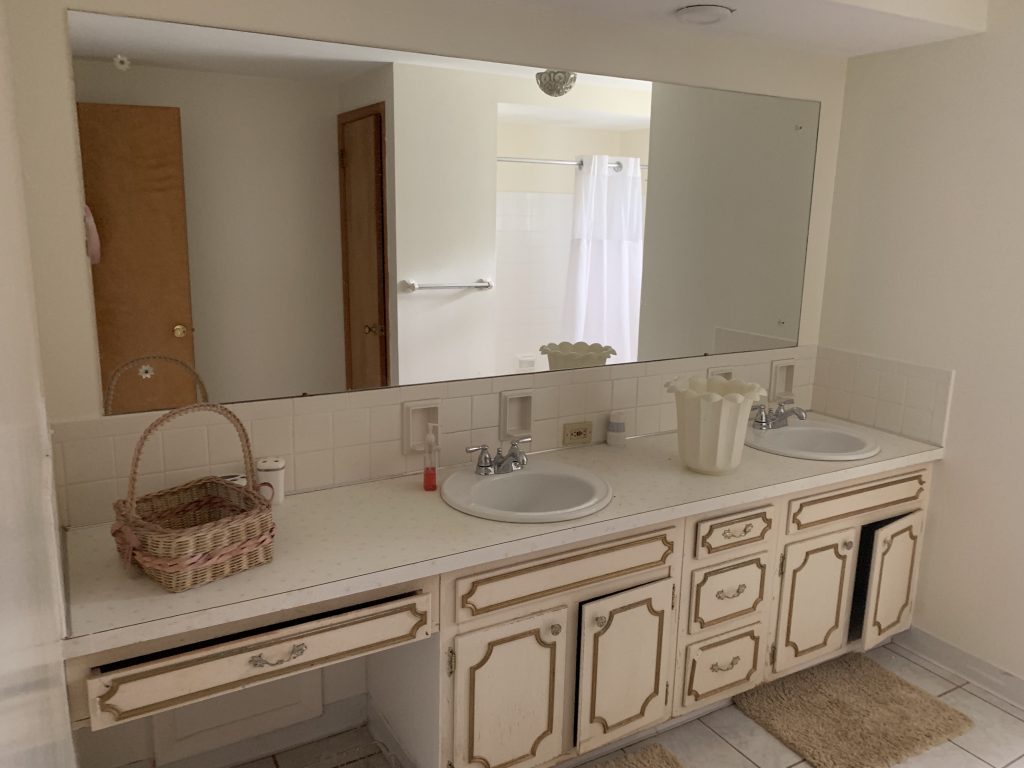 After the renovation, the space looks clean and bright. We kept the double sinks in this bathroom because we know couples like to have their own space!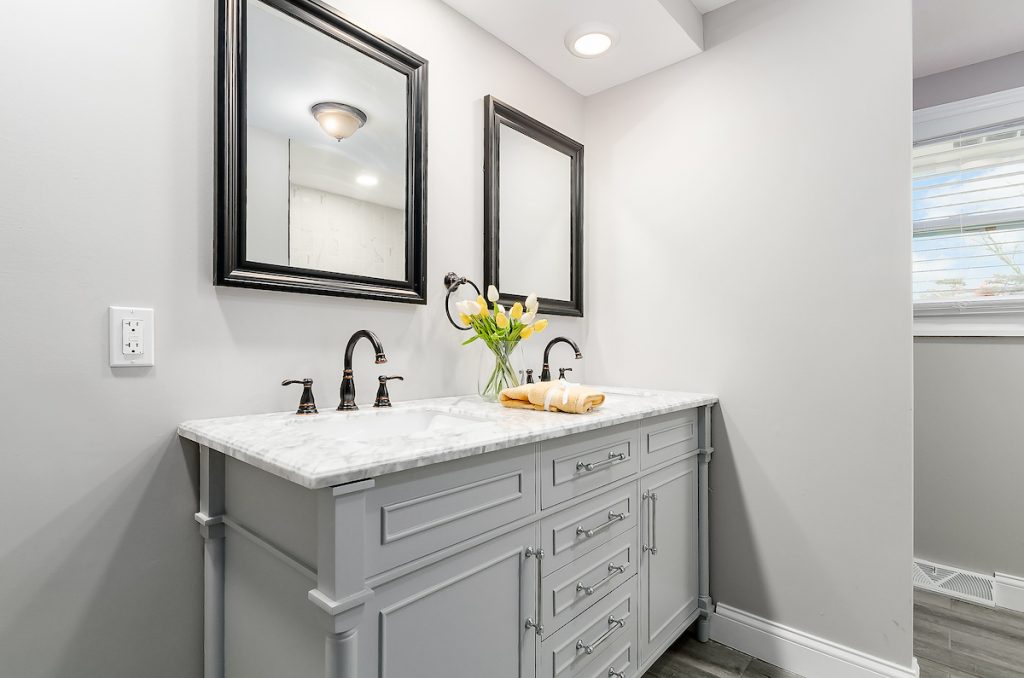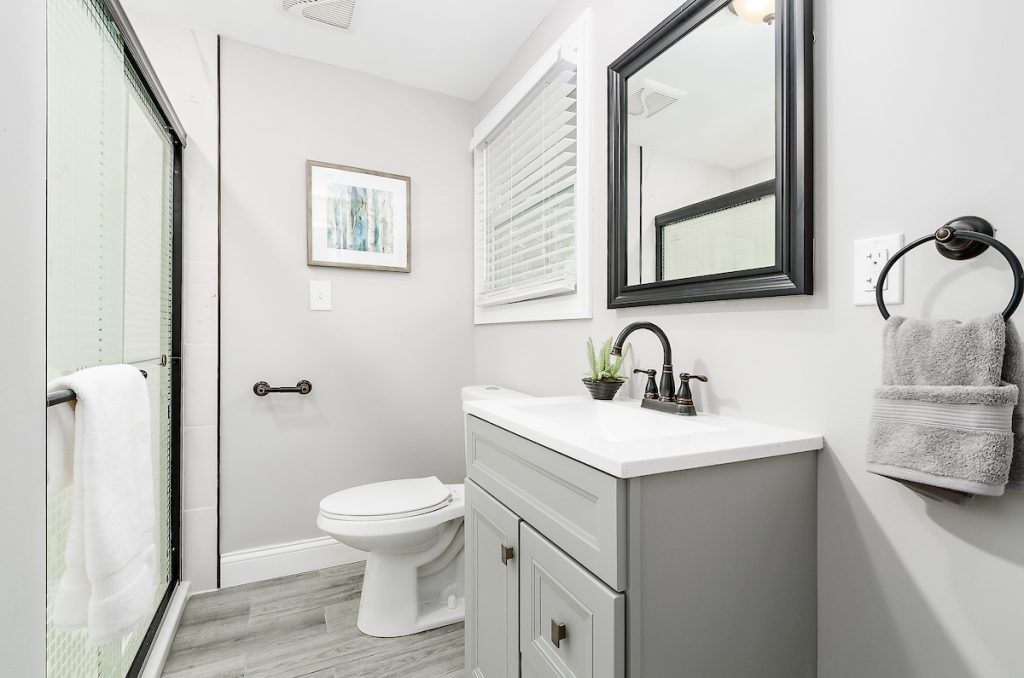 Living Areas
Before, the house had brown carpet and green walls.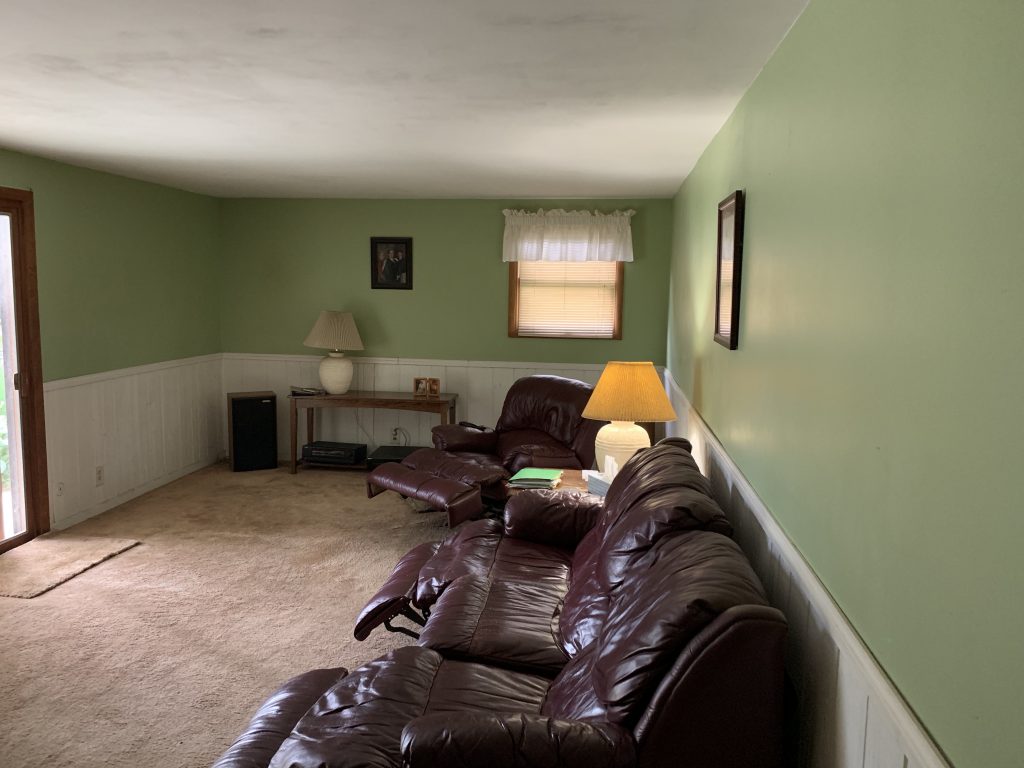 In the main living area, there was a big fireplace that looked like it came straight off the set of the Brady Bunch!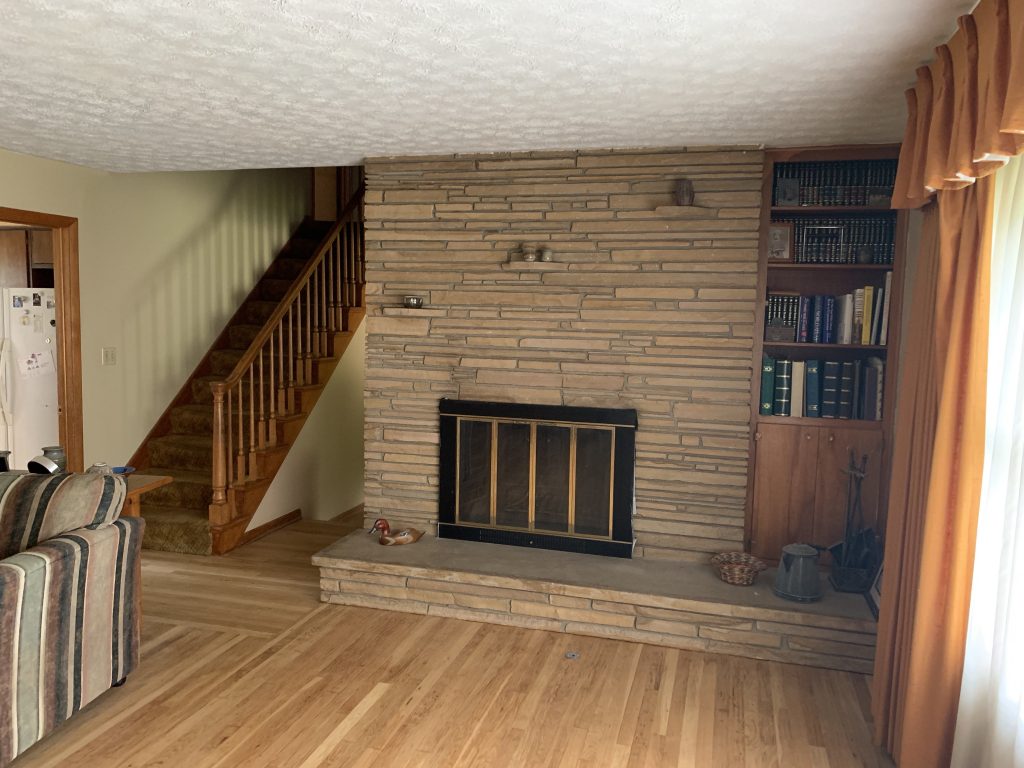 We painted the brick, replaced the flooring, and painted the walls in our favorite grey.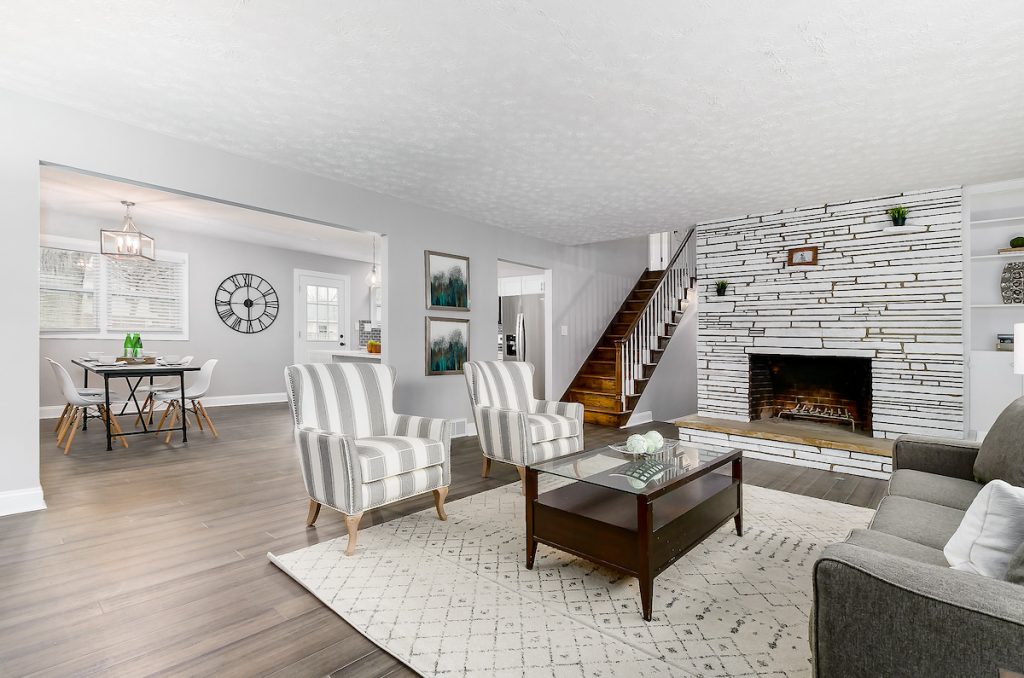 Although we loved the big windows that let in lots of light, we replaced the curtains with new blinds.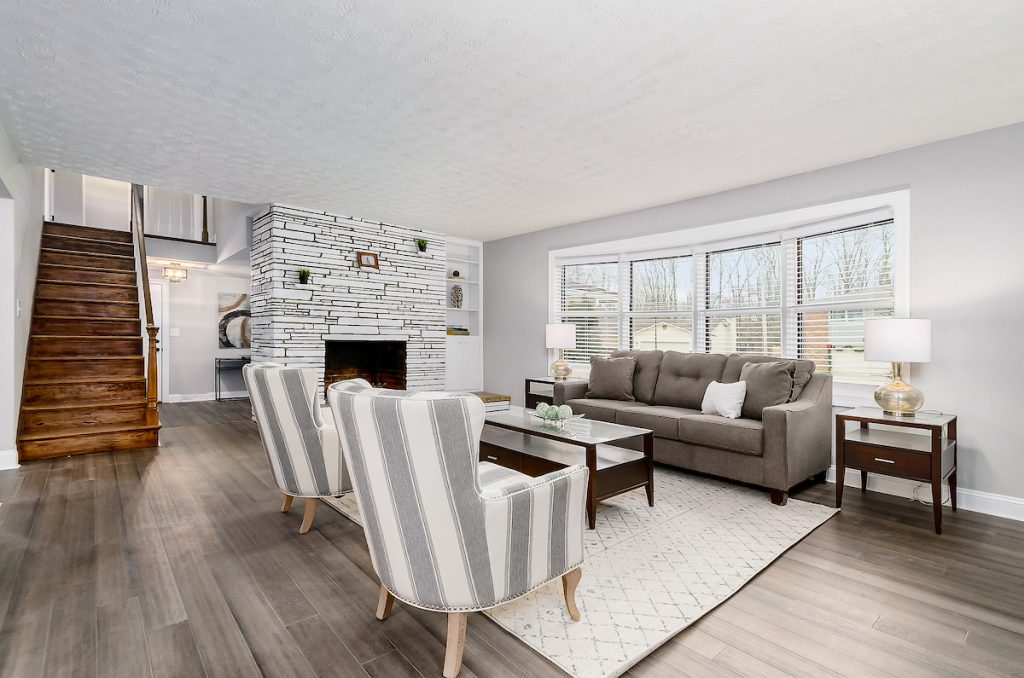 Can you believe how spacious this room looks now?!?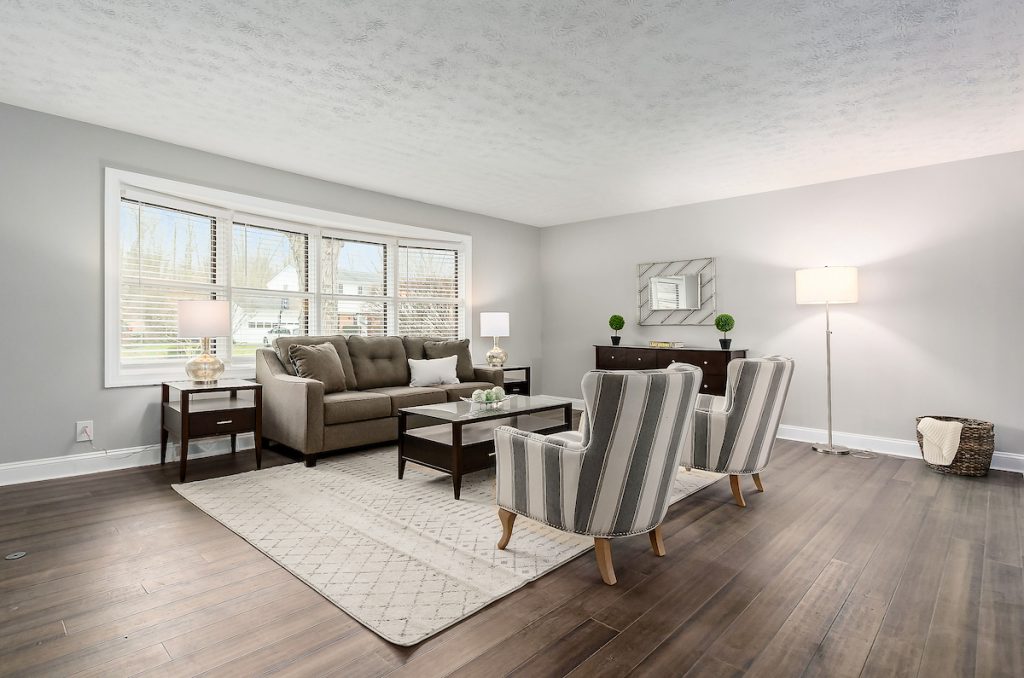 This is another spacious room in the lower level of the house with a sliding door that opens up to the backyard.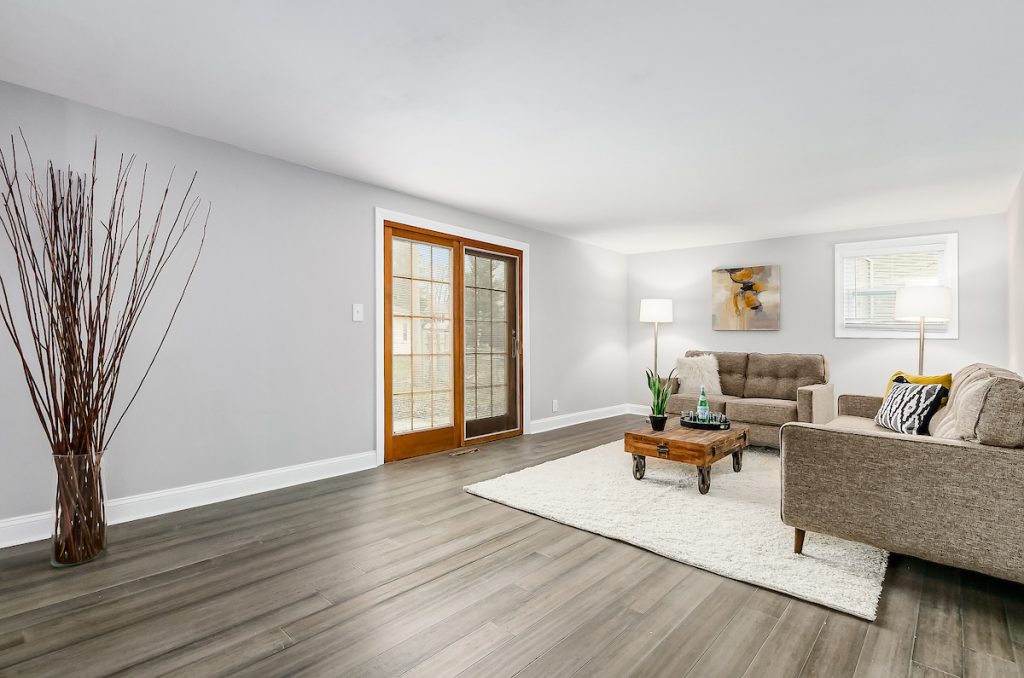 And the entry is AMAZING!
UHS prides itself on quality work.
Revitalizing neighborhoods isn't just a phrase we throw around… it's our mission. Upward Home Solutions is committed to investing in communities and giving new generations of homeowners better lives. Re-using houses is an environmental commitment. Re-doing an old house uses fewer resources than building new ones, and we're all about it.
Curious about the housing situation in Central Ohio? Read "Columbus Fair Housing Is on the Rise" for more!
"They Don't Build 'Em Like They Used To"
Like you saw in this case, we look for houses with "good bones." We don't mind getting our hands dirty with the restoration work. In fact, we often prefer to buy houses as-is, houses that we can redesign from scratch.
Upward Home Solutions invested money and time to turn this fifty-year-old house into a home for a 21st-century family. Revitalizing neighborhoods takes time and money, and we remain comitted to investing both.
If you know of a house that could use our TLC, please let us know! We don't just pay cash to folks selling their homes — we also have a sweet referral program. You know that house with the wildly overgrown lawn on the end of your street? How about that family member who has recently moved to senior care and doesn't know what to do with their home? If we buy the house you refer us, we'll give you a VERY generous thank you gift. It's what we do!
Check Out More Before and Afters!
Want to see what else we've been up to? Click below for more pics of our recent revitalization projects! More Articles
Get a cash offer on your house.