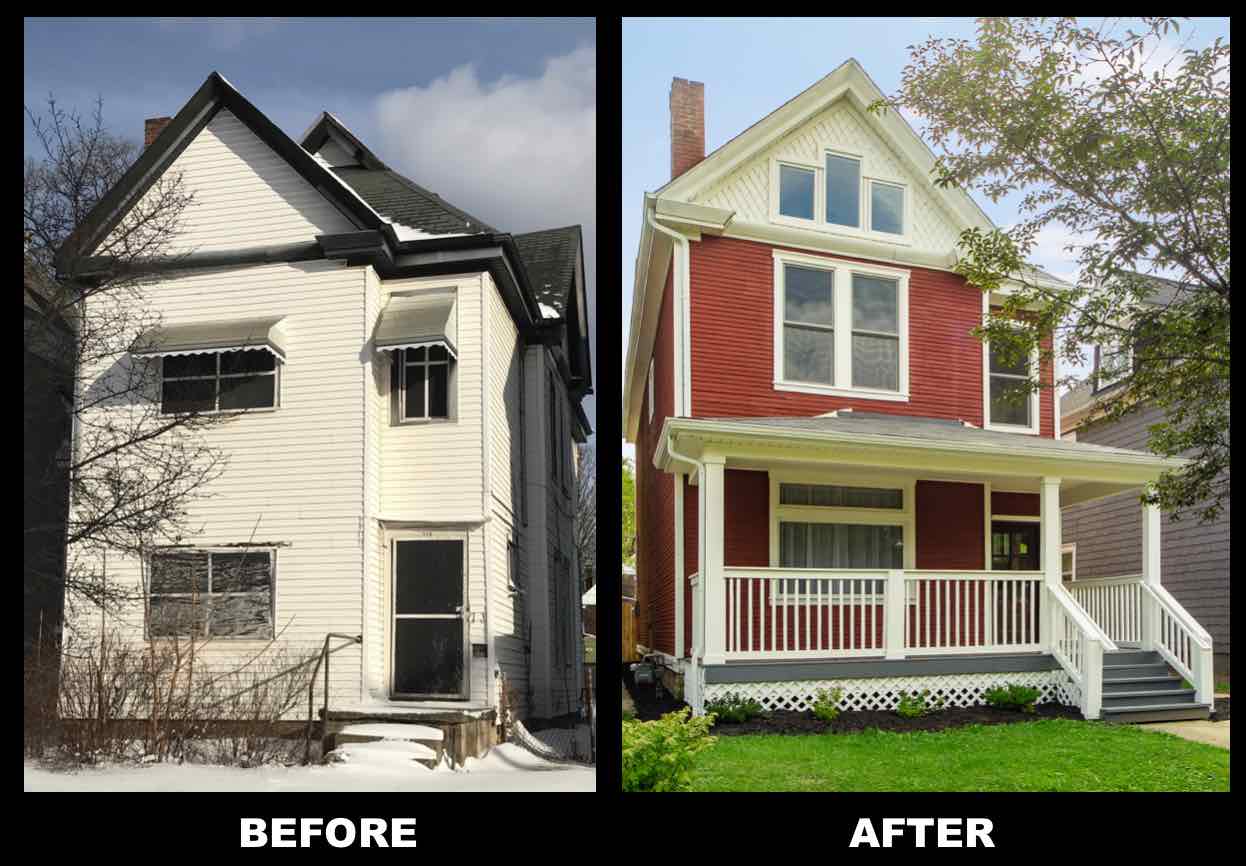 How to Deal with a Damaged House
Have your tenants left you with a damaged house? Are you fed up with being a landlord, but don't know whether you should attempt repairs or start down the road of selling a house in poor condition? "Frustrating" and "stressful" don't even begin to cover how this scenario can feel when you're in it. Fortunately, you do have options. So if you need to cut your losses and you don't know whether you should fix or sell as is, this guide is for you.
Life as a Landlord
The Pros
As you probably know, owning a rental property can be a great way to make extra money. Investors who have well-located properties in reasonable condition can earn enough for home upkeep and management with a little extra to pocket when all is said and done.
The Cons
With any potential for profit, there's also potential for a financial pitfall. Many landlords and rental property managers share a single horrifying thought: extensive damage to their property that keeps them from renting it to future tenants. Whether that damage is due to external factors such as severe storms or it's caused by problematic tenants with a lack of respect for the property, discovering a severely damaged house is a nightmare scenario.
The damage is often time-consuming and extremely costly to fix, leaving many landlords to wonder about selling a house in poor condition.
The Decision: Salvaging or Selling a House in Poor Condition
Identify the Damage
There's no good time to discover property damage as a landlord. Some homeowners will only notice it after a move-out inspection when the previous tenant's lease is up.
Finding structural or cosmetic flaws due to a tenant's mistreatment can cause serious anxiety, depending on the severity of the damage.
If the signed lease agreement allows it, landlords can definitely withhold security deposits to pay for repairs. But all too often, this paltry amount ends up being too small to cover moderate to major issues. If the tenant at fault has already moved out prior to you discovering the damage, there may be little recourse for seeking reparations.
On the other hand, landlords may find their property needing serious repairs from external circumstances. Natural disasters, burglars, unwanted pests, and deterioration during a vacancy can all lead to expensive home repairs.
Homeowner's insurance may cover much of the fallout from these potential threats. Of course, coverage varies. And if you have no insurance, you're unlikely to receive any sort of federal payment for fixing up the property.
In this case, you will end up paying for the repairs out of pocket. This may mean selling the damaged house just to stay financially afloat. The property value of a damaged house is, of course, dependent on the extent of the damage. While minor water damage or cosmetic blights can be fixed with relative ease, structural flaws can greatly decrease a home's value.
To know if the property damage is too great to still earn a profit in the future, landlords must calculate costs to repair and subtract that from what they gain from monthly rent. Some landlords may have money in savings allocated to spend on emergency cases such as this. Others, however, barely make enough rental profit to pay their own monthly mortgage. For the latter, discovering damage early is key.
Assess Your Options
You can't act until you know your options. So let's look at the bad news first (there's more good to come though!). There's always the possibility that insurance companies deny your claims, tenants vanish/refuse to cooperate, or the repairs are too extensive to be cost-effective. Depending on the circumstances surrounding your damaged house, you have a few routes you can go.
Option #1: Paying out of pocket
When these things occur, the homeowner's first option is to pay the bills out of pocket. This is where having an emergency savings fund comes in handy. Landlords will most likely need a significant sum to pay contractors, repairmen, and appraisers to reassess the property value after damage. While it may not be cheap, however, it could be worth it. That really depends. However, for homeowners who A.) depend on rent payments for income and B.) are no longer generating that income due to the property damage, selling the damaged house may prove unavoidable.
If you're pretty handy, that can work in your favor big time. Those who choose to handle some or all of the repairs themselves can obviously keep contractor costs low, but they should have a firm grasp on what they're setting out to accomplish. While home renovations are often pricey, and doing them yourself can save money, it may come with risks. Making major repairs will probably require an understanding of local building codes and possibly HOA guidelines. If a fix isn't up to code, it can result in the damaged house being shut down completely.
The moral of the story? If you have a strong grasp of what you need to accomplish, and it makes sense financially, this could be an avenue to repair.
Option #2: Selling a House As Is to Zillow Offers
Zillow Offers is a relatively new offering from the real estate giant. We wrote a Zillow Offers article recently to break down how the system works, what the benefits are, and what the downsides can be. I recommend checking it out, but the abbreviated version is this: you may be able to get a good deal from the program, but you're unlikely to get a great deal. The upside is that you're not going to get out-and-out swindled by criminals. Zillow is a home buyer you can more or less trust. But you're going to pay a lot of costs to sell with them.
So when you're selling a home as is, it pays to see if you can't find a well-reviewed, legitimate cash buyer to take your damaged home off your hands.
Option #3: Selling a House As Is to a Fair Cash Buyer
Sometimes, a great option for landlords facing costly home repairs is to sell a damaged rental to us and move on. Though losing a source of monthly income can seem fiscally irresponsible, it's in the homeowner's best interest to sell when the burden of owning outweighs the potential profitability.
Locating a Motivated Buyer
While many prospective buyers are looking for homes in pristine condition that are move-in ready, others are attracted to fixer-uppers for their potential. That's the boat we're in at Upward Home Solutions. We often actually prefer a damaged house to a beautiful one. For this reason, we're able to offer win-win solutions when landlords need to sell as is.
Trying to sell a damaged house on the real estate market is often an exercise in futility. If you renovate to sell, you'll spend a lot of effort, invest a lot of time, and you may not even make that money back. The unfortunate truth is that a damaged house is more likely to draw the attention of less serious buyers looking to submit lowball offers and procure properties for next to nothing.
Avoid Scams
The mention of cash for homes can make folks skeptical, and that's a response we encourage these days. As we mentioned above, there are grifters out there. But if you check Google reviews, social media, and BBB ratings, you can get a pretty good idea of what a company is about. We highly recommend running these checks before you talk to anyone (including Realtors) about selling.
But if you opt to sell as is to a cash buyer, you should do your research and a lot of digging before you sign anything. Local reputable buyers are always looking for homes to renovate in Columbus, but as with any strong market, there are situations to avoid. There are always going to be a handful of fly-by-night, shady operations that can scam people out of their assets. Please please please vet any businesses you speak with to verify their legitimacy.
But Don't Throw Out the Baby With the Bathwater!
Don't assume that a solid offer on your damaged house is necessarily too good to be true. Remember: some professional home buyers are more interested in the home's potential renovation value than the risk involved in restoring it. They usually have a larger base of properties and can afford to take the short-term hit required to fully gut the home the way it needs for it to sell on the market. Honest renovators will offer fair cash offers for homes in literally any state of disrepair.
Ready to Pass Those Upfront Costs on to Upward Home Solutions?
Selling a house in poor condition to UHS comes with some other benefits too. For one, you get cash in hand!
The Opportunity to Reinvest Quickly
Selling to a cash buyer will allow you to reinvest your money immediately after the signing. For many folks who are itching to start making money again, this beats waiting months to fill a damaged property with new tenants or spending money on minor repairs in a gamble to attract a buyer on the market.
Now, I can only speak for me and my team on this, but when we buy a house, we go ahead and absorb every cost you would otherwise have to pay. Some companies do this, and others don't. With those that do, it means you avoid those monthly mortgage payments and the home's general upkeep. You can also forget aobut paying all the costs associated with selling. This is why selling a house to us may net you more money than you would get from Zillow Offers, for instance.
Wrapping Up Your Damaged House Options
While we'd love for you to sell to us, it's ultimately about what's best for you. Many times, selling a home as is will be a good option for folks with damaged house properties, but we encourage you to check out all your options. Calculate what renovations would cost, consider how much effort you're willing to put in, talk to buyers, and above all (sorry to beat a dead horse) do your research.
Feel free to give the UHS team a call or stop by our Powell office if you have any questions about selling a house in poor condition!
The information presented in this article is for educational purposes only and should not be considered legal, financial, or as any other type of advice. More Articles
Get a cash offer on your house.