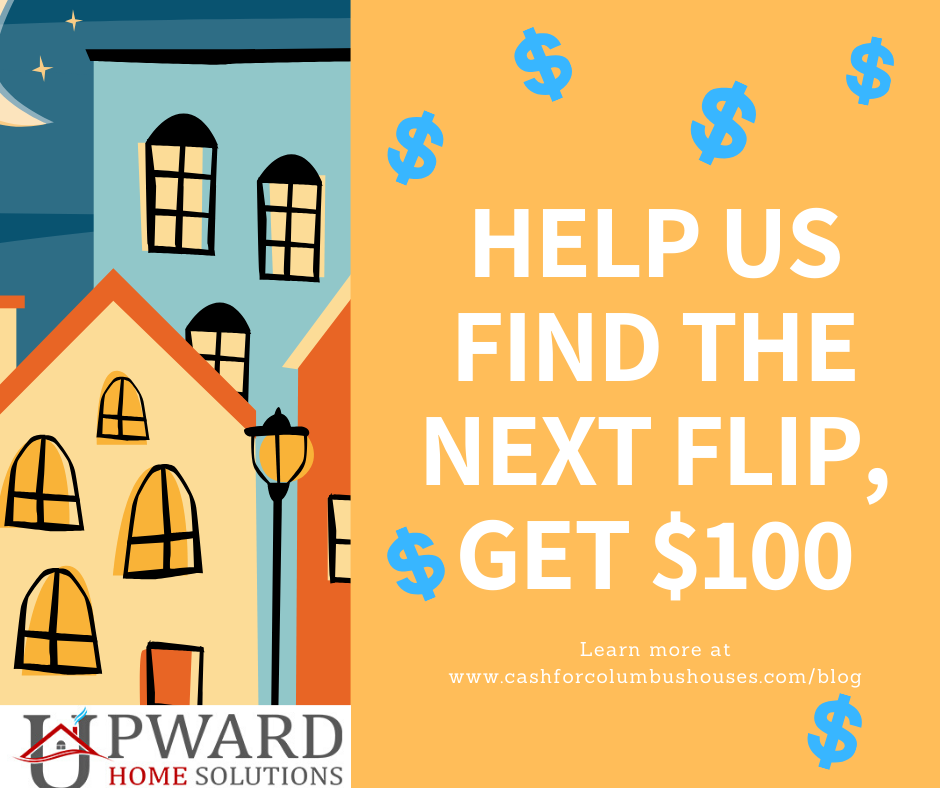 Referral Program FAQ: Submit A Lead
Ready to make some easy cash? Submit a property to us using our lead submission form. If we buy the house, you'll get a generous finder's fee!
Q: Does Upward Home Solutions have a referral program?
A: Yes! We offer a $100 gift card or cash award for any lead that results in a signed contract. All you have to do is submit the lead. We will take it from there. Read on to learn more.
Q: What is a "lead"?
A: A lead is a homeowner that you think might sell a house to us. This could be someone you know or just a run-down house in the neighborhood. All we need from you is an address to get the process started. You can call us to submit a lead at 614-705-0866 or send us an email at Upward@614houses.com
Q: Do I have to know the owner of the house to give you an address?
A: No. All we need is the address. We can figure it out from there. If you have the owner's name, phone number, or email address, please do send it to us, but it's not critical and it won't affect your bonus.
Q: When I give you a property address, how long does it take for you to contact the homeowner?
A: When you give us all the contact information, we usually contact the homeowner within 24 hours. It might take another day or two if we have to track down the owner's name and phone number. Sometimes we're able to schedule an appointment and sign a contract like we did with our friend David, in as little as a week. We've even signed before in as little as two days. Other times, it takes a bit longer. It all depends on the seller. 
Q: Can I remain anonymous?
A: Yes. When we contact the homeowner, we will only use your name if you give us permission to do so. You don't even have to know the owner. For instance, if you drive by a house every day on your way to work and it seems vacant, you probably only know the property address. We would not use your name in that case. But if you've talked to a relative about us and you gave them a heads up that we might be calling, we will drop your name if you say it's okay.
Q: How will you track the addresses I give you?
A: Your name will be attached to the "lead" in our database. We keep close track of all leads.
Q: What kind of homes do you buy?
A: Every kind of home, but especially ones that need some work. We buy single-family homes, duplexes, condos, apartment buildings. It could be a rental home, or a house that someone has inherited, or a place that someone has owned for a long time but are ready to downsize. We even buy homes that have liens or are in foreclosure. Upward Home Solutions buys in every Central Ohio neighborhood and city including Columbus, Hilliard, Gahanna, Reynoldsburg, Westerville, Delaware, Upper Arlington, Clintonville, Worthington, Grove City, Pataskala, Sunbury, Galena, Lewis Center, and a few others that I've forgotten! We do not buy mobile homes, houseboats, office buildings, or trailers.
For ideas on what kinds of situations we are looking for, take a peek at our submission process.
Q: Do you buy houses that are listed with a real estate agent?
A: Probably not. We like to buy directly from homeowners without having to pay extra fees to Realtors. Most of the houses we buy are not on the market. However, we will be happy to talk with people who are trying to sell a house by themselves, also called "For Sale By Owner" or FSBO.
Q: How long does it take to receive my referral bonus?
A: We will send out a gift card or deliver your cash within 7 days of the homeowner signing the contract.
A: Can I submit more than one lead?
Absolutely! We will compensate you for every address that leads to a signed contract. But please don't waste our time by giving us every single address in your neighborhood. 😉
The easiest way to send us a lead is by filling out our online form.
Q: What's the difference between an "appointment" and a "contract."
A: An appointment is when a member of our team meets with the homeowner to check out the property and go over the process with the seller. Most of the time, the homeowner receives an offer that same day. Then it's up to the homeowner to decide if they want to sell to Upward Home Solutions. When the homeowner puts their signature on the offer, we have a "contract."
Q: What do you do with the houses you buy?
A: Our mission is to revitalize Columbus neighborhoods. We renovate a lot of houses and "flip" them for new families. By investing our time, money, and expertise into properties, we make many of them look better than new. This helps revitalize communities and increases the tax base for schools and public services. If we have a lot of renovations underway, we work with a network of investors to find the right person to take on the project.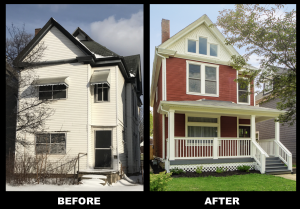 Q: Will you buy my house?
A: Call us! We'll be happy to set up an appointment and make an offer on your house. We'll even give you the referral bonus for submitting the lead on yourself!
A: How can I get updates on an address I gave to you?
Send us an email asking for an update at upward@614houses.com or call the office phone at 614-705-0866. Remind us that you are one of our lead providers and give us the address of the property you're asking about. We'll be happy to fill you in about where we are in the process!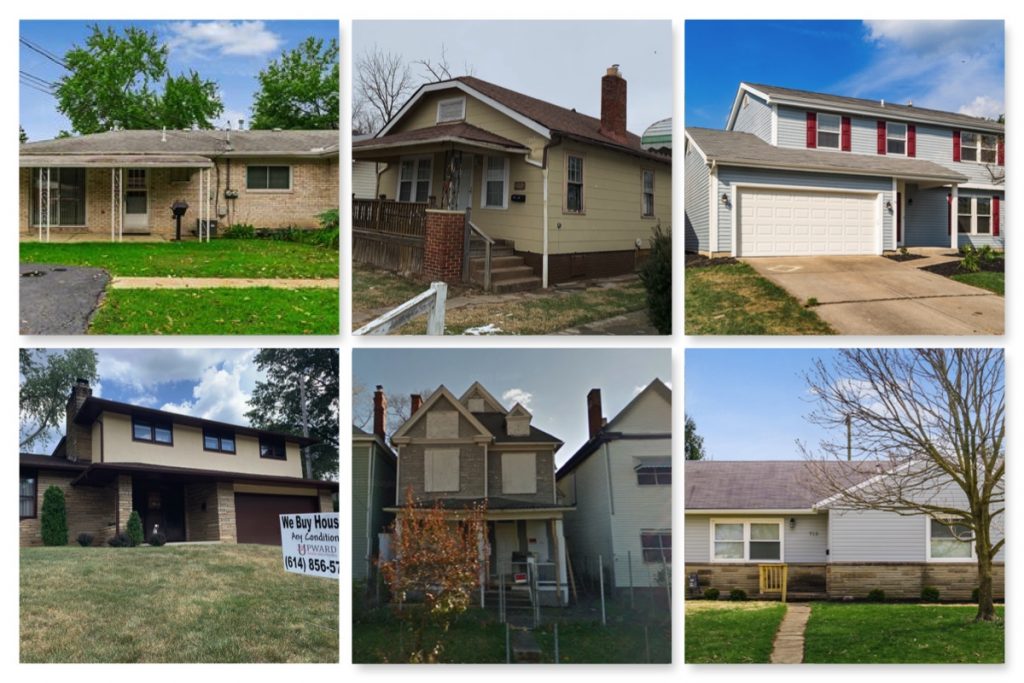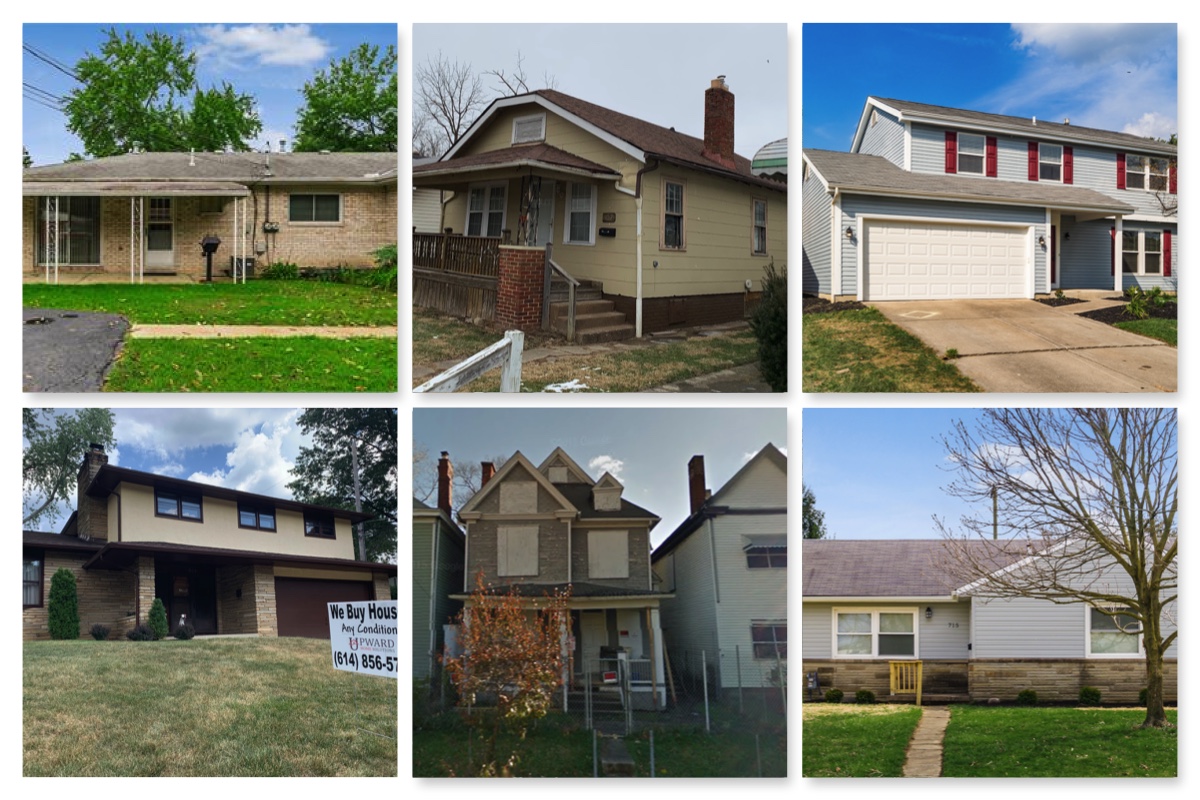 More Articles
Get a cash offer on your house.